Keema Samosa Recipe
Feb 18, 2022
Recipe Details:
Keema Samosa :
Keema Sasoma is the epitome of love! A real entree that goes with any meal or snack and has enchanted South Asia for nearly 800 years. Samosa is a wonderful delight that appeals to people of many cultural backgrounds thanks to its wide range of filling options, which include meat mince, mashed potatoes, sweet coconut, lentils, and paneer.
This keema samosa recipe is identical to the ones sold on Pakistani streets. Samosa filling can be made with lamb/mutton or beef mince, and keema denotes mince. Beef samosa, lamb samosa, mutton samosa, or simply meat samosa, depending on the mince used in the filling. (Aloo Samosa Recipe)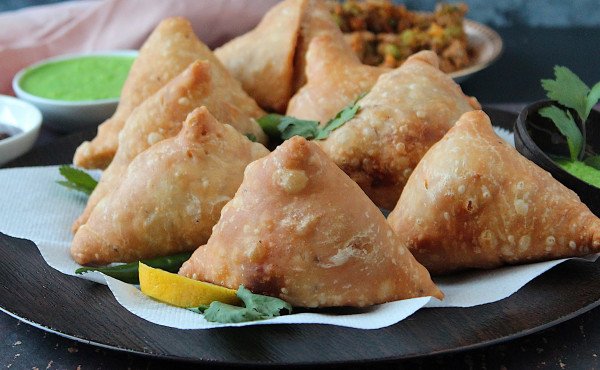 What is Keema Samosa?
Keema literally translates to "meat mince." Traditionally, a keema samosa is a beef or mutton samosa stuffed with spiced mince and onion filling. Chicken samosas have also made their way into the street and frozen food areas, thanks to the low cost of chicken.
Surprisingly, while the aloo samosa is loved by all South Asians, the lamb or beef keema samosa is only popular in meat-loving Pakistan and North India.
How Do You Fold a Samosa?
Check the length-to-width ratio of the strips. Strips should be at least three times as long as they are wide. If not, you can cut a little width off to make it the right size. The samosa can be small, medium, or enormous in size. As a result, the ratio is crucial.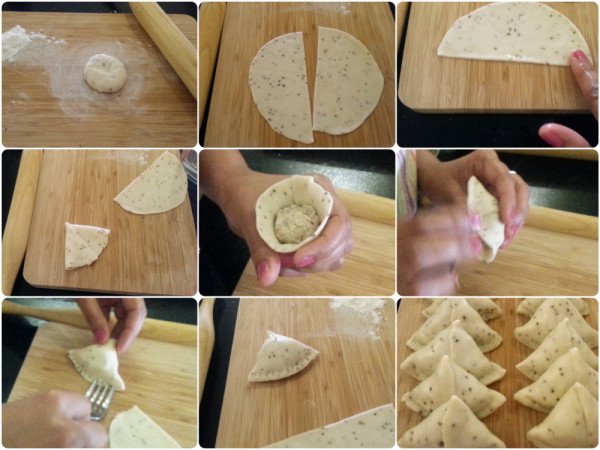 A flawless triangle may be seen underneath in step two.
Choose the triangle's right top and fold it to fit the bottom border.
You've got a pocket to fill now. Fill the pocket, then fold the top down to cover it and roll the side edges for a perfect triangle.
Glue the edges with the flour paste. Try to keep the pocket properly sealed and avoid allowing oil to fill it when cooking.
Keema Samosa Recipe :
These are spicy, chatpatta samosa, enjoy with tamarind or mint chutney.
| | |
| --- | --- |
| Prep Time: 20 mins | Cook Time: 15 mins |
| Total Time: 35 mins | Servings: 10 to 15 |
Ingredients For Keema Samosa :
Keema filling for Samosa:
250 grammes lamb or beef mince.
1/4 cup of water.
Keema Recipe for Samosa Pakistani :
1 tablespoon whole ginger garlic paste.
1/2 tablespoon roasted and ground coriander.
1/2 tbsp cumin seeds, toasted and crushed.
1/2 tbsp red chilli powder (or more to taste).
1/2 teaspoon powdered garam masala.
a quarter teaspoon of turmeric powder.
a quarter teaspoon of salt, or to taste.
1 cup finely chopped onion.
3/4 cup coarsely chopped green onion.
1/4 cup chopped green coriander.
2 tablespoons chopped mint leaves.
1 teaspoon chat masala (or more to taste).
1 teaspoon of lemon juice.
2 to 3 tablespoons coarsely chopped green chilies.
12–14 patti samosas or spring roll wraps.
2 tbsp wheat flour, made into a paste with a little water.
To fry, add oil.
How to make Punjabi keema Samosa?
Follow these simple steps to make delicious Keema Samosa at home. (Samosa is one of the famous Pakistani snacks for tea)
Instructions for Keema Samosa :
Combine mince, water, and the spices listed in the spice list in a pot. Cook, stirring occasionally, for 15 to 20 minutes over medium heat, or until the water has evaporated.
Remove the pan from the heat.
Combine the remaining somasa filling ingredients in the hot mince right away.
Fill the samosa with the prepared filling and fold it in half, then seal the ends with a wheat flour and water paste.
Samosas should be fried in small batches for 3 minutes over medium heat until crispy.
Remove the surplus oil to a paper towel to absorb it. Serve immediately.
Notes :
To Store: Uncooked samosas can be kept in the refrigerator for up to 24 hours.
Alternatively, freeze for two months. Separately freeze in a tray before transferring to a frozen bag.
Leftover fried samosas can be kept cool for 6-8 hours in a paper bag on the counter. Reheat in the oven or deep-fry one more.
To bake Samosa:
Preheat the oven to 350 degrees Fahrenheit. Both sides of the samosa are sprayed with oil. Then, on a baking tray lined with butter paper, arrange the samosas. Bake for 15-20 minutes until golden brown and crispy in a preheated oven. After 10 minutes, flip the samosa to the opposite side for even cooking.
Nutrition Information: Calories: 96kcal
Follow Food of Pakistan for the Best Blogs and Recipes related to Traditional and famous foods of Pakistan.