Samosa is one of the famous Pakistani snacks for tea
Jan 05, 2021
What is samosa?
A samosa is a fried in oil snack which is a savoury filling with onions, spicy potatoes, peas, cheese and other meats or lentils. Depending on the region, it can take a variety of shapes, such as a triangle, a conic, or a crescent.
Different types of samosas are available across Pakistan in general, most varieties of samosas sold in the southern province of Sindh and eastern Punjab, especially in the region of Lahore, are spicier and often include vegetable or potato-based garnishes. However, samosas available in the western and northern parts of the country usually contain minced beef and are comparatively less spicy. Samosa meat consists of chopped beef (veal, lamb or chicken) and as a snack, it is considered very famous in Pakistan.


In Pakistan, samosas of Karachi are known for their tangy flavour while in Faisalabad (a city in Punjab Pakistan) samosas are known to be uncommonly large. Another different type of samosa which is available in Karachi is called paper samosa ("kagzi samosa" in Urdu) because it is thin and crunchy and resembles a wonton (a type of dumpling) or spring roll. Another popular variation in Punjab is samosas garnished with spicy chickpea puree, onion and coriander leaf salad, as well as various chutneys topping the samosas. Samosas are cooked or roasted pasta with a healthy side, such as spicy potatoes, onions, peas, lentils, and ground meat (lamb, beef, or chicken). The sweets are also sold in cities in Pakistan, including Peshawar. These sweet samosas have no filling and are dipped in thick sugar syrup.
Another popular Pakistani snack in Punjab is known as "Samosa Chaat or Dahi Samosa Chaat". It's a combination of crumbled samosa with spicy chickpeas (Channa Chaat), yoghurt and chutney. Alternatively, the samosas can also be eaten alone with chutney. In Pakistan, samosas are an important iftaar food for many Pakistani families in the month of Ramzan.
There are various types of samosas in Pakistan here we mention a few of them.
Aloo (Potato) Samosa:

This form of samosa is common in Pakistan. Aloo samosa is available across almost every area in Pakistan. Either it is a roadside stall or a big restaurant. Aloo samosa is available almost everywhere and is common. You can enjoy it with different things like buns etc.
Keema Samosa: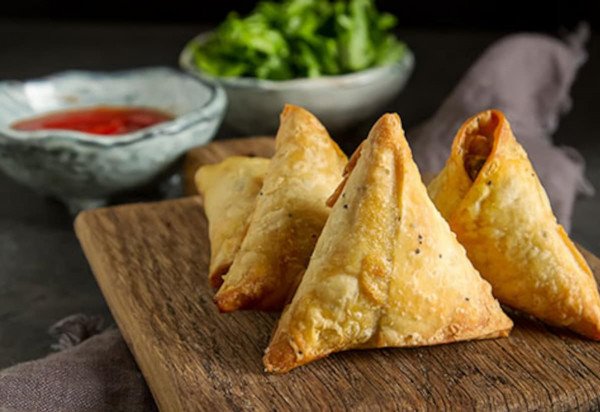 Just like aloo samosa, keema samosa is also very common in Pakistan. Keema means ground meat or chopped meat. It is smaller in size than aloo samosa. You can then fry it easily in the oil.


Cheese Samosa:

Cheese Samosa is a new type of snack that children and adults alike for its cheese flavour. Cheese mixed with fresh coriander makes a delicious filling for samosa. The samosa cheese filling is very tasty and unique while comparing it to the normal samosa. Fry in hot oil and serve hot to enjoy the melted cheese in your mouth.
Cholay Samosa: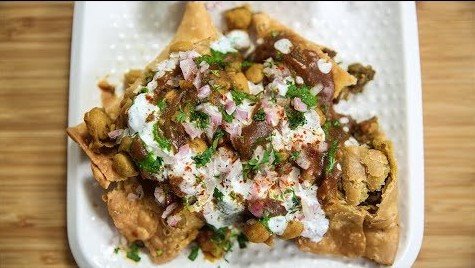 Cholay samosa is a samosa dish which Pakistani people like very much. Cholay means chickpea. Cholas are tasty in all their ways, but they're more delicious when served with samosa at the Iftar table. You can even find this dish at a roadside stall in different cities of Pakistan. This dish is basically a samosa added separately with chickpea.
Chowmein Samosa:

Amazing concept, isn't it? But Chow Mien lovers won't go crazy if they fall for this rare samosa dish. We guarantee that it is delicious. The filling can be any type of chow mein, Hakka noodles, or standard noodles of your choice.
Follow Food of Pakistan for the Best Blogs and Recipes related to Traditional and famous foods of Pakistan.