Gulab Jamun Recipe
Jan 04, 2021
Recipe Details:
Gulab

Jamun
The most popular sweet. It is soaked in a sweet, sticky syrup. Gulab means 'rose water' as per tradition, the sugar syrup has also a delicate rose flavor. A Jamun is a berry with a size comparable to the dough balls hence called Gulab jamun.

Best Gulab Jamun Recipe
Gulab Jamun recipe made with easy and simple ingredients. Made with khoya and doused in cardamom sugar syrup. ( Follower Gulab jamun Video)
Prep Time:

10 mins

Cook Time:

30 mins

Total Time:

40 mins

Serving:

5
INGREDIENTS:
Ingredients for Homemade Gulab jamun :
Key Ingredients:
Khoya
Refined flour or sooji
Baking soda
Sugar
Water
Milk (mixed with  little water)
Green cardamoms ( crushed)
Ghee
Cube of bread.
For Dough :
75 gm Dry milk
half Tablespoon Flour (all-purpose)
half Teaspoon Sooji (semolina)
half teaspoon Baking Powder
Pinch Salt
half Tablespoon Oil or Ghee
One Egg (beaten)
For Syrup :
half Cup Sugar
1/4 Cup Water
1 Star Spice
half Cinnamon Stick
1 Clove
2 Cardamom
half Tablespoon Lemon Juice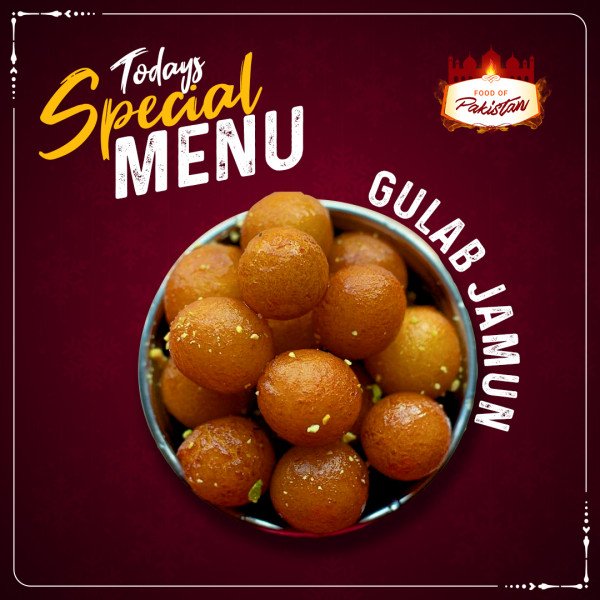 INSTRUCTIONS:
Step by Step Gulab Jamun Recipe and Instructions :
Procedure to make Syrup :
Take 1-cup of sugar, 3 green cardamom pods, 1.5 cups of water, and 1-2 drops of lemon juice in a deep pan.
Heat it over medium flame and cook until it reaches half-string consistency or turns a little sticky while stirring it occasionally in between. It will take around 5-10 minutes over medium flame to reach the required consistency. Turn off the flame when sugar syrup is ready.
Procedure to make Dough:
Mix all ingredients required for dough except Egg
Knead it with beaten egg, use as much egg as required
This will be sticky, knead the dough well and refrigerate it and it will become firm
Make balls out of the dough
Heat the oil and fry the dough balls over low heat until it turns golden
Take all out and put them in hot syrup and turn off the flame. Let it soak the syrup for at least half an hour.
Garnish with pistachios and serve cold or warm. You may also decorate it with edible silver leaf.
NOTES:
Precautions :
Make sure to use good quality milk powder, as it plays a vital role in making.
Also, don't replace the baking powder with baking soda. Using soda can create chances to break while frying.
For more, fry on low flame else gulab jamun will remain raw from inside.
Finally, the Gulab jamun recipe is ready to have the best tastes !.
FollowFood of Pakistan for the Best Blogs and Recipes related to Traditional and famous foods of Pakistan.