Sooji Halwa
Oct 06, 2021
Recipe Details:
Sooji Halwa :
Sooji Halwa is a form of halwa made by toasting whole-wheat semolina in a fat such as ghee or oil, then sweetening with sugar syrup or honey. It works well as a breakfast or dessert item. Semolina, sugar or honey, ghee, and Sooji halwa with milk are the only ingredients in the basic recipe. Sooji Halwa is a traditional Pakistani dessert made of fine semolina or cream of wheat, sugar, ghee, almonds, and cardamom powder. In just 20 minutes, you can make this easy, melt-in-your-mouth Sooji Halwa Recipe. ( Halwa Puri Recipe )


| | |
| --- | --- |
| Prep Time: 5 mins | Cook time: 15 mins |
| Total Time: 20 mins | Serving: 4 |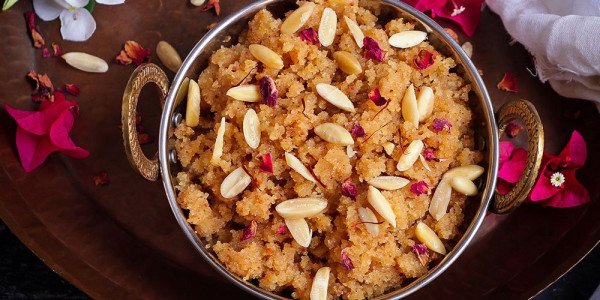 How to make Sooji Halwa?
Here's the Sooji ka halwa Recipe just follow these simple steps to make delicious Sooji halwa at home.

Ingredients :

a half cup of suji (fine rava or semolina or cream of wheat).
1/3 cup sugar (about 5 to 6 teaspoons) or more as needed.
1/3 cup ghee (approximately 6 teaspoons).
1/2 teaspoon cardamom powder – or 4 to 5 green cardamoms, husks removed, ground in a mortar-pestle (choti elaichi powder).
10 to 12 halved or whole cashews (kaju).
2 tablespoons raisins (golden) (kishmish).
1 tsp. chironji – if desired (charoli).
1.25 cup water – 1 cup water can also be used.
1 teaspoon camphor (edible) (optional).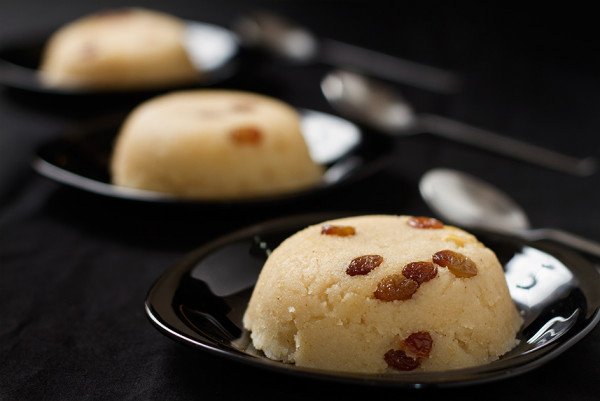 Instructions :

In a mortar-pestle, grind the green cardamom seeds to a fine powder and set aside. Take out the husks.
Maintain a low flame in a kadai or pan.
Add the ghee and perform the following while the ghee is heating up.
Combine the sugar and water in a different pan.
Allow the sugar solution to come to a boil in this pan over a medium to high heat.
Stir in the suji (semolina) and cashews once the ghee has heated up.
Stir the suji (semolina) constantly so that the grains do not stick to the pan and are uniformly toasted.
Keep an eye on the sugar solution in the meantime.
If the mixture begins to boil, reduce the heat and allow it to simmer.
Continue to roast and stir the semolina for another 7 to 8 minutes, or until the grains have changed color and the cashews have turned a light golden or golden color.
You must roast the sooji until the ghee separates from the sooji. The suji or rava's color should not turn brown. In addition, the aroma of suji and ghee will fill your kitchen.
Keep in mind that roasting the rava is crucial. If the rava is not properly roasted, the halwa will not have the best texture and will have a slightly raw taste.
The cardamom powder, chironji, raisins, and edible camphor are then added (optional). Mix thoroughly.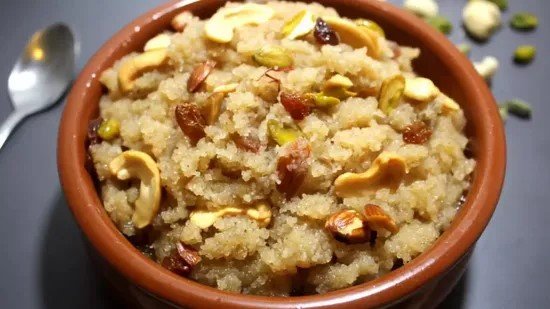 Making Suji Ka Halwa Or Sheera :
Stir in the sizzling hot sugar solution before slowly pouring it over the cooked suji mixture.

Keep an eye on the mixture because it has a tendency to sputter.

Be able to stir quickly enough. The water will cause the sooji to absorb it and swell.

Continue to stir frequently until the entire mixture thickens and begins to leave the kadai or pan's sides.

Sooji halwa can be served hot, warm, or a room temperature.

It's delicious as a sweet snack or as a dessert after a meal.

Any leftovers should be stored in an airtight container in the refrigerator for 1 to 2 days. Reheat in a pan until ready to serve.
Notes :
Suji variety: For halwa, use the fine type of suji. Make sure your rava is fresh, within its expiration date, and free of insects, mold, and rancidity.
Recipe can be halved, doubled, or tripled in size.
If you're creating suji halwa for religious purposes, a pinch of edible camphor might be added.
Temperature: The sugar solution must be boiling and bubbling hot when added to the rava. If the sugar solution becomes warm, increase the heat until it boils. When the sugar solution is added to the fried rava mixture, it must also be hot.
Multi-cooking: Keep the sugar solution simmering on a different burner while roasting the rava.
Using less sugar and ghee: You can lessen the amount of sugar and ghee used. Add 14 cup sugar to rava sheera for a less sweet taste.
Sugar can be replaced with jaggery as a sweetener. To begin, dissolve the jaggery in the water and heat it until it is warm. After the jaggery has completely dissolved, filter the solution to remove any remaining contaminants. Return the strained solution to the pan and heat until it boils.
Milk can be substituted for water in the liquids.

Serving: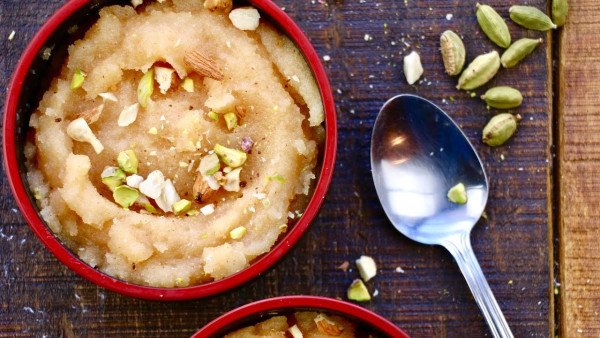 Flavorings and Nuts: You can use any dry fruits and nuts you choose. Aside from cardamom powder, you can use saffron strands or even rose water to add taste and perfume.


Follow Food of Pakistan for the Best Blogs and Recipes related to Traditional and famous foods of Pakistan.