Sheer Khurma Recipe
Apr 27, 2021
Recipe Details:
Sheer Khurma :
Sheer Khurma is a traditional vermicelli pudding made especially for Eid celebrations. The Persian word 'sheer' means milk, and 'khurma' means dates. This Eid recipe is a traditional delicacy that is prepared in a variety of ways in various households. (Chawal Ki Kheer Recipe).
Sheer Khurma Recipe :
Ingredients:
500 Ml Milk, full cream. 
50 Gram Vermicelli (broken into small pieces), roasted. 
1/4 Cup Sugar. 
2 Tbsp Dates, chopped. 
1/4 Cup Raisins. 
1/4 Cup Almonds (cut into pieces), blanched. 
1/4 Cup Pistachios. 
1/4 Cup Ghee. 
1/2 tsp Saffron. 
1/2 tsp Cardamom powder.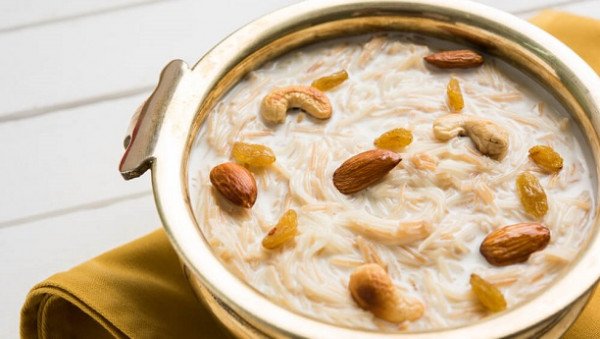 How to make Sheer khurma Recipe?
Just follow these simple steps to make sheer khurma at home.
Instructions:
Fill a pan halfway with ghee. 
Toss in some almonds, raisins, and pistachios. Well-sauteed. 
Add vermicelli to another hot pan with ghee. Roast for a long time. 
In a separate large saucepan, heat the milk until it thickens, then add the sugar and continue to cook. 
Add the dates and saffron to the roasted vermicelli and dried fruits. 
Stir well until the sauce has reached a simmering point. Cardamom powder should be added at this stage. Bring to a low boil. 
Serve chilled with dates on top.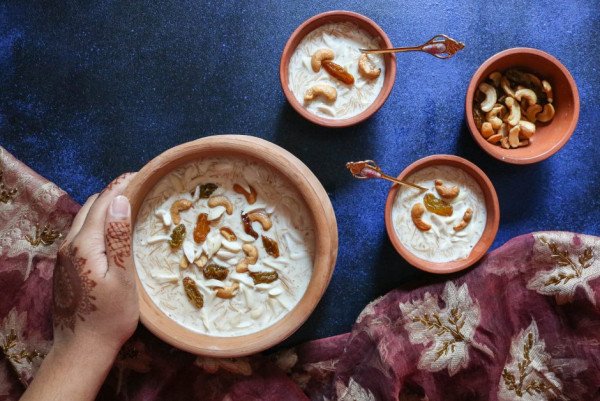 Notes:

50-60 grammes of fine nylon vermicelli and 50 grammes of ghee are used to make with 1 litre of milk. You can adjust the amount of sugar according to your preferences. Preparation and cooking times will vary as well.

Follow Food of Pakistan for the Best Blogs and Recipesrelated to Traditional and famous foods of Pakistan.