Panjeeri - Pakistani Homemade Recipe
Feb 10, 2023
Recipe Details:
A delicious, healthful, and ideal Pakistani/Indian winter Dessert known as panjeeri or panjiri has a strong warming effects that makes it ideal for everyone, but particularly for postpartum and nursing women. It is a hearty and nutritious dish thanks to the inclusion of dry fruits, semolina, edible gum (goond), and ghee.
What is Panjeeri?
Panjeeri is a blend of nuts, seeds, and semolina that has been coarsely mixed and lightly roasted in ghee.
What are the Benefits of Panjiri?
Due to its warming, healing, and strengthening characteristics, panjeeri has been used for generations as a warming medicinal supplement, especially for postpartum women. It's a tasty supplement packed with calories and good fats to speed up healing. Additionally, many of the nutrients enhance nursing mothers' breastfeeding, Because of its warming qualities, Panjeeri is generally fantastic for bone health, muscle pains, recovery from an illness or surgery, and periods of weakness, such as during a sickness. In other words, Panjeeri is great for anything that calls for recovery and the building of strength.
It is a fantastic dessert for kids as well because it is packed with really beneficial fats. It's excellent for anyone, adult or child, who needs to gain weight because of its high fat and calorie content. Again, it's a fantastic recipe to make in the winter because of its warming qualities!
I have a strong inclination to refer to panjiri as a SUPERFOOD because I attribute a great deal of my speedy healing and general well-being following the delivery of Baby Q to this dish. Many months after giving birth, I continued producing new batches of this incredible supplement, and I have no doubt that doing so gave me the extra vigour and stamina I needed to continue the daily grind without feeling worn out and weak.

Panjeeri Recipe:
A delectable winter snack from Pakistan is Panjeeri. It is a comforting and nutritious food since it contains roasted dry fruits, semolina, and edible gum.
Prep Time: 5

minutes

Cook Time: 

55 minutes

Total Time: 1 hour
Serving: 8 Cups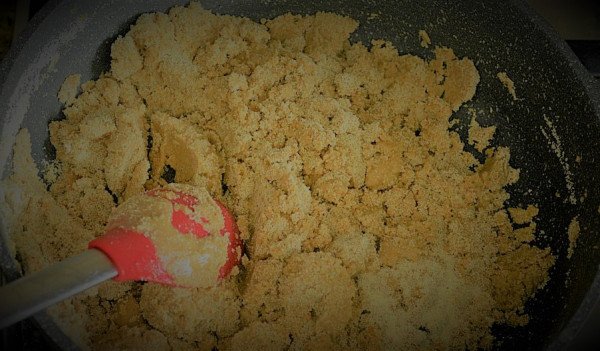 Ingredients of Panjeeri:
Ghee, 1/2 kilogramme, or as required.
3 cups of puffed lotus seed or fox nuts (Phool makhana).
1 cup of crystals of edible gum (Goond).
Cashew nuts, 1 cup (Kaju).
Pistachios, half a cup (Pista).
1.5 cups almonds (Badam).
Dried melon seeds, 3/4 cup (Chaar magaz).
0.5 kilogramme of semolina (Sooji).
500 grammes of fine sugar (Bareek cheeni).
Cardamom powder, 1 teaspoon (Elaichi powder).

Panjeeri step-by-step Instructions:
Melt 3–4 tablespoons of ghee over medium heat in a sizable nonstick pan, then add the puffed lotus seeds (makhanay), roasting for a few minutes or until light golden. After that, take them out and put them in another medium bowl.
Reheat 2-3 tablespoons of ghee, add the edible gum crystals (goond), and cook until they are crisp and double in size. Then set them in addition to the roasted puffed seeds.
When the cashew nuts are golden brown and fragrant, add them to the heated 2-3 tbsp of ghee. Remove and combine with the other roasted ingredients.
Reduce the heat, melt 2-3 tbsp of ghee, add the almonds, and roast them for 3–4 minutes while stirring continually before removing and placing the roasted ingredients in a bowl.
Once more, reheat 2-3 tablespoons of ghee, add the pistachios, and roast them for 1 minute while stirring constantly.
Now add 2-3 tablespoons of heated ghee to the dried melon seeds and cook for 1-2 minutes. Remove and add to the bowl with the roasted items. Use a tissue to clean or wipe your pan.
Add all the roasted items mentioned above to a food processor, finely chop them, and then set them aside.
In the previously used pan, add 1/2 cup pure organic ghee and melt it over medium heat. Add the semolina (sooji), stirring regularly at first and more continually towards the finish to ensure equal roasting. 15 to 20 minutes of roasting time, or until fragrant and golden. Place in the big bowl after being taken off the heat.
The toasted semolina bowl should now contain cardamom powder.
The finely ground fried nuts and fine sugar should be added to the large bowl of toasted semolina and thoroughly mixed. Give it time to cool.
Panjeeri is prepared and can be kept for up to 2-3 months in an airtight container in a cold, dry location.
Note:
Avoid over-cooking your ingredients. Particularly with pistachios and semolina, take care. Overcooked or overfried components will give your panjeeri a bitter or burnt flavour.
Be patient and keep the heat at medium or lower. Ingredients are roast until they emit a nutty aroma or turn golden.
Try to avoid over-blending the roasted nuts when you're grinding them; else, your panjeeri will become powdery rather than crunchy and gritty.
Cooking oil should NOT be substituted with ghee when making panjeeri. It's a healthy fat with lots of advantages.
Follow Food of Pakistan for the Best Blogs and Recipes related to Traditional and famous foods of Pakistan.