Mixed Vegetable Curry Recipe
Dec 22, 2021
Recipe Details:
Mixed Vegetable curry :
This recipe for mixed veggie curry is ideal for weeknights. It's adaptable, so you can use any vegetables you have on hand, and it comes together quickly. A dry vegetarian/vegan sabzi that goes well with Pakistani flatbread like roti or chapati. ( Aloo Palak Recipe )
Prep Time:

15 mins

Cook Time:

30 mins

Total Time:

45 mins

Servings:

4
Mix Vegetable Curry :
Ingredients:
3 tablespoons oil (neutral).
1 tblsp cumin powder.
1 medium-sized onion or 1/2 cup coarsely chopped onions.
1 teaspoon garlic-ginger paste.
2 medium to large tomatoes, carefully chopped (tightly packed) 1 cup finely chopped tomatoes.
1/2 teaspoon powdered turmeric (ground turmeric).
1/2 teaspoon kashmiri chilli powder or paprika — for a hotter gravy, add more.
2 tblsp coriander powder (ground coriander).
1/2 teaspoon powdered garam masala.
1/2 teaspoon green chillies, diced, or 1 green chilli.
1/3 to 1/2 cup diced potatoes.
a third of a cup of chopped capsicum.
1/3 cup carrots, chopped.
1/4 to 1/3 cup french beans, chopped.
1 cup cauliflower, chopped – blanch cauliflower if desired.
1/2 cup fresh or frozen green peas.
1.5 cup water (or more as needed).
season with salt as needed.
2 tbsp. cream (light or thick) or malai, plus 3 tbsp. milk.
Optional: 8 to 10 Paneer cubes.
3 tablespoons coriander leaves or 1 tablespoon mint leaves, chopped.
How to make mixed vegetable curry?
Just follow these simple steps to make delicious vegetable curry at home.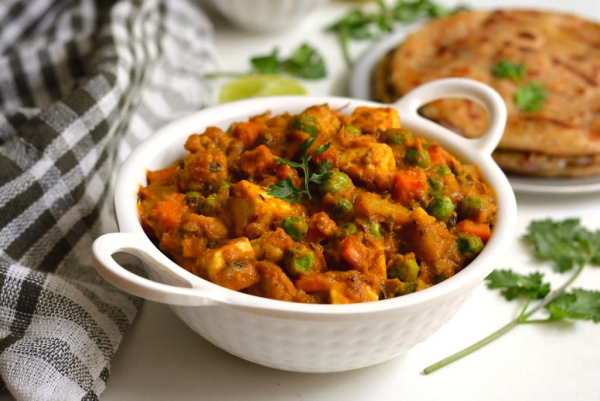 Instructions:
Sauteing Onions:
Heat oil in a kadai (wok), skillet, or thick-bottomed pan.
Allow the cumin seeds to sputter.
Then add finely chopped onions and cook till they are light golden in colour.
Sauteing Ginger-Garlic Paste And Tomatoes:
After that, stir in the ginger-garlic paste. Sauté for 10 to 12 seconds, or until the raw ginger and garlic aromas have faded.
Sauteing Tomatoes:
After that, toss in the tomatoes. Continue to stir until the tomatoes are mushy and pulpy
The time it takes to sauté the tomatoes is a little longer. Add a pinch of salt to the onion-tomato combination to speed up the process.
Because you don't want the tomatoes to burn, sauté them over a low heat.
If the ingredients begin to stick to the pan, a few sprays of water can be added. Deglaze the pan using a mixture of ingredients.  cook for a few minutes more.
Sauteing Ground Spices:
Add turmeric powder, kashmiri red chilli powder, coriander powder, and garam masala powder when the mixture is smooth, pulpy, and glossy, and oil is releasing from the sides.
Sauté for a minute after thoroughly mixing the ground spice powders with the onion-tomato mixture.
Adding Vegetables And Water:
Add the diced vegetables, green peas, and green chilies at this point.
Cooking Mix Vegetables:
Cover the pan with a lid and cook the vegetables over a low to medium heat setting.
While the vegetables are cooking, keep an eye on them.
Add Cream (Optional Step):
Add the cream, malai, or milk once the vegetables are half cooked.

Mix everything up thoroughly.
Cook Veggies Further:
Cover with a lid and continue to cook until the vegetables are soft.

Remember to inspect the vegetables at regular intervals.

If the water runs out and the vegetables still need to be cooked, add more water.

When the vegetables are done cooking and the mixed vegetable curry is finished, turn off the heat and stir in 3 tablespoons chopped coriander leaves. Mix thoroughly. If you're using paneer, put it in first before the coriander leaves.

Veggie curry can also be garnished with fried paneer cubes. Otherwise, simply sprinkle chopped coriander or mint leaves on top.

Mix veg curry can be served hot or warm.
Serving:
With flatbread, naan, paratha, or poori, serve the vegetable curry. Steamed rice or cumin rice are also good accompaniments. The curry goes great with rice and toast or dinner rolls.
Veggie curry can be served with fried paneer cubes as a garnish. Otherwise, serve with chopped coriander or mint leaves as a garnish.
Notes:
Vegetables to include: I always use strong vegetables like cauliflower, potatoes, beans, carrots, and green peas in this curry. You can, however, use any vegetables you have on hand. Make sure you add the vegetables in the order in which they will cook. Longer-cooking veggies (such as cauliflower and potatoes) should be introduced first, followed by fast-cooking vegetables (such as spinach) in the last few minutes of cooking.
Follow Food of Pakistan for the Best Blogs and Recipes related to Traditional and famous foods of Pakistan.