Lahori Fried Fish Fillet Recipe
Jan 19, 2023
Recipe Details:
You can get these fried fish fingers on the streets of Pakistan. Light and crispy on the outside, tasty and spicy on the inside, this Lahore fish fry is an incredibly delicious appetizer.


What is Lahori Fried Fish?
These are fried, crispy fish fingers that are sold on the streets of Lahore but are now widely available across Pakistan. The fish strips are coated in a batter made from gram flour and some authentic South Asian spices and then fried in hot oil until crispy.


How to serve Lahore fried fish?
Once de-oiled, this fish is sprinkled with chaat masala (a pungent South Asian spice blend) to soften it. Fish fingers can be served with any Pakistani chutney or even tartar sauce. But I highly recommend pairing it with my green tamarind chutney. And don't forget to make the crispy Masala fries on the side for the ultimate street food experience.

Fried Lahori Fish is usually served as an appetizer, but you can also have it as a main course by pairing it with Pakistani Roghni Naan (Fluffy Flatbread) and adding the bold and spicy Achari Chicken on the side.
Fried Lahori Fish Recipe
| | |
| --- | --- |
| Preparation time: 10 minutes | Cooking time: 15 minutes |
| Total time: 25 minutes | Servings: 20 fish fingers |
Ingredients for Fried Fish Fillet:

500 g boneless white fish fillets cut into 2 cm strips.
chaat masala for sprinkling.
vegetable oil for frying.
DOUGH
½ cup gram flour.
¼ cup cornmeal.
2 spoons of rice flour.
3 tablespoons of yogurt.
1 teaspoon ginger garlic paste.
1 teaspoon of salt.
1 teaspoon red chili powder.
½ teaspoon red chili flakes.
½ teaspoon of turmeric powder.
½ teaspoon black pepper powder.
1 teaspoon of carom seeds.
1 teaspoon of cumin seeds, roasted and ground.
1 teaspoon of dried fenugreek leaves.
A pinch of orange food coloring optional.
Water as needed.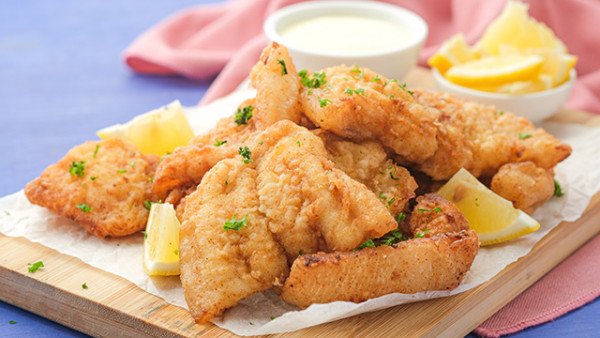 Instructions:
In a large bowl, mix all the ingredients for the dough with a whisk. Make a smooth, thick dough with water.
Add the fish to the bowl and coat it well in the batter. Set aside for 15 minutes. Do not leave the fish for too long or it will be too soft.
In a big saucepan, heat the deep-frying oil. On a medium flame, drop the fish fingers in batches. Don't overfill. Flip over so that both sides are equally golden. When they are half cooked and the coating has stuck to the fish, remove them to a paper towel.
Let cool for 15-20 minutes while you fry the remaining batch.
Then fry the fish fillets again for extra crunch until cooked through and golden.
Once they are out, sprinkle with chaat masala and enjoy with your favorite chutney.

Follow Food of Pakistan for the Best Blogs and Recipes related to Traditional and famous foods of Pakistan.