Lab-e-Shireen Recipe
Jan 27, 2022
Recipe Details:
Lab-e-Shireen :
In Pakistan, lab e shireen is a traditional Arabian dish that is eaten as an Eid special dessert. It is a delightful and flavorful custard and fruit dish that is traditionally served on Eid or during the holy month of Ramdan. It's even referred to as Pakistani fruit custard. Before serving, cool the dessert to get the best flavour. Here's a simple, step-by-step recipe for making lab e Shireen at home. (Sheer Khurma Recipe)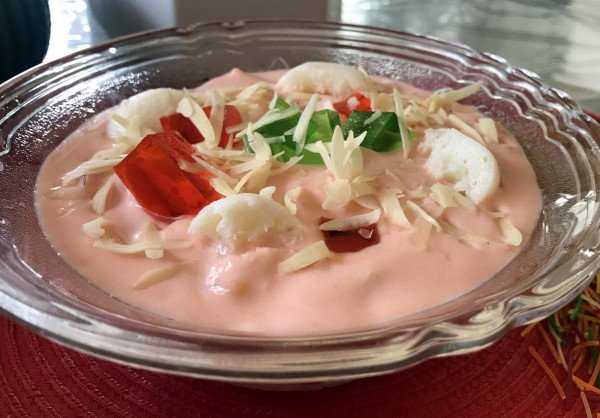 Lab-e-Shireen Recipe Step by Step :
| | |
| --- | --- |
| Prep Time: 15 mins | Cook Time: 15 mins |
| Total Time: 30 mins | Servings: 4 |
Lab-e-Shireen Ingredients :
Mix 1 to 1 cup of fruit. 
1 cup green jelly. 
1 cup red jelly. 
1 cup cream. 
300 mL milk. 
1/2 cup sugar. 
2 tbsp. custard powder. 
1/4 cup chopped almonds. 
2 tbsp. red syrup. 
Vermicelli (Saviyan boiled).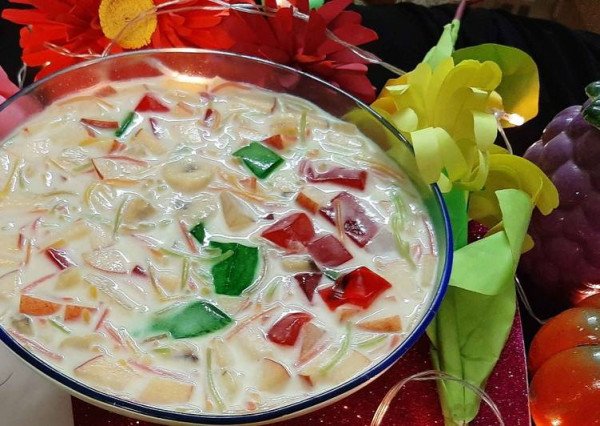 How to make Lab-e-Shireen?
Just follow these simple steps to make delicious lab-e-Shireen at home.
Instructions:
To begin, make the custard. 
Separately, combine the custard powder and 2 tablespoons milk in a small bowl. 
Bring the remaining 300ml to almost boiling point in a pan with the sugar and a few drops of red narus (to colour the custard pink), then reduce the heat. 
Add the custard mixture and stir constantly until it thickens (approximately 2-3 minutes), then remove from the heat. 
Allow the custard to cool before mixing in the liquid cream and naurus sherbat. 
The drained fruit cocktail, crumbled almonds, and boiling vermicelli are then added. Serve with jelly as a garnish. 
Refrigerate the dish until ready to serve.
Follow Food of Pakistan for the Best Blogs and Recipesrelated to Traditional and famous foods of Pakistan.