Kofta Recipe
Apr 12, 2021
Recipe Details:
What is A Meat Ball (Kofta)?

A meatball is referred to as a kofta. And koftay ka salan (meatball curry) is a traditional Pakistani dish made by first making mince meat meatballs and then cooking them in a flavorful curry with onions and yoghurt. 
Many people are scared by the prospect of making these Koftas , but with my recipe and tips, you can make perfect koftas in no time. These koftas are sweet, juicy, and tender while remaining intact and unbroken. The curry base is also very delectable. 
Many recipes call for tomatoes in their curry, but I believe that the onion and yoghurt sauce is more authentic to koftay ka salan. Some people even like to deep fry their meatballs, which, in my view, gives them a tougher exterior. (Keema Karela Recipe).
Kofta Recipe :
Beef Kofta Recipe :
Ingredients For Beef Kofta:
1 onion, tiny (120 grammes after peeling) chopped coarsely. 
1/4 cup packed cilantro leaves 1 green chilli pepper stem cut and roughly chopped.
Optional: 1 tbsp mint leaves.  
1(1/2) tsp garlic powder. 
1 tsp ginger powder. 
1 pound of ground beef (preferably full fat). 
2 tablespoons chickpea flour (also known as gramme flour or besan). 
1 gently whisked egg. 
1 tsp lemon juice, freshly squeezed. 
1 teaspoon cumin powder. 
a half teaspoon (½) of coriander powder. 
a half teaspoon (½) of turmeric powder. 
a half teaspoon (½) of black pepper powder. 
a half teaspoon (½) of red chilli powder. 
1 teaspoon garam masala. 
1 tsp salt (kosher).
For Curry (Salan):
1 big, roughly chopped onion. 
2 medium tomatoes, roughly chopped (or 3 small tomatoes, roughly chopped). 
1 stem from a green chilli pepper, roughly chopped. 
1 tsp cumin seeds 1/4 cup neutral oil. 
1 inch cinnamon stick 3 whole cloves. 
1 leaf of bay. 
1-2 cardamom pods (green). 
4-5 garlic cloves, crushed. 
1/2 inch ginger root, crushed. 
3 tbsp whole milk plain yoghurt. 
A teaspoon of cumin powder. 
1 teaspoon powdered coriander. 
1 to 2 teaspoons red chilli powder. 
a half teaspoon (½) of turmeric powder. 
paprika powder (regular or smoked) 1/4 tsp (optional). 
2 cups water 1/2 teaspoon salt. 
1/2 tablespoon garam masala. 
1 to 2 tablespoons cilantro leaves.
How to make kofta?
Just follow these simple steps to make delicious kofta at home. (Follower Kofta Video).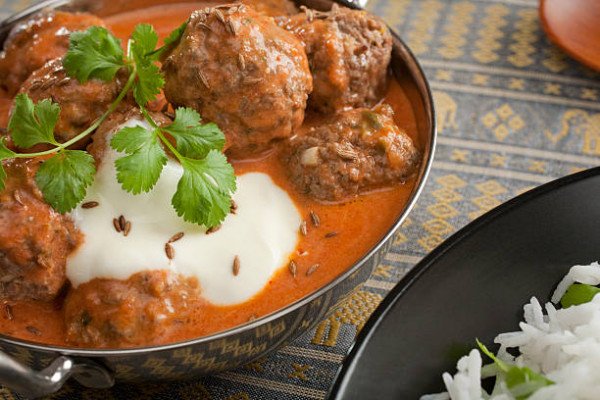 Instructions For Kofta:
In a food processor, combine the onion, green chilli pepper, cilantro leaves, and mint leaves (if using). To chop the onions, use the pulse feature so that they are finely chopped but not blended. 
You don't want the onions to start breaking down and releasing water. Then add the rest of the meatball ingredients (including the meat) and process for about 30 seconds, or just until combined. 
Shape meatballs about 1 - ½  inch in diameter using a little oil to grease your hands. It should yield approximately 25 meatballs.

For Curry :
Clean your food processor by rinsing it. Then, to chop the onion, use the pulse feature once more. Remove the item and set it aside.
The tomatoes and green chilli pepper should then be chopped. 
Over high heat, heat a big, heavy-bottomed pan. Enable the oil and whole spices to sizzle for a few seconds before adding them to the pan.
Then add the chopped onion and cook for 7-8 minutes, stirring frequently, or until golden. Reduce the temperature to medium-high. 
Bring 2 cups of water to a boil over high heat. Reduce the heat to the lowest setting until the water has reached a boil.
Arrange the kofte in a single layer once the water has stopped boiling. 
Raise the heat to medium and cook for 10 minutes, covered. Remove the lid and swirl the kofte gently. Reduce the heat to a low-medium environment. Cover and continue to cook for another 35 minutes, stirring once in between, until all is finished. 
To make the kofte to the desired consistency, sauté to evaporate the water. Taste and season with salt if necessary.
Garam masala and cilantro are added last. If needed, serve with hard-boiled eggs.
Kofta Recipe Chicken :


The Chicken Kofta Curry recipe is one of Pakistan's most common dishes, and no one can resist it. Chicken kofta is a Pakistani dish made by rolling minced chicken meat into small balls and cooking them in a curry sauce. Veal, lamb, ham, shrimp, prawns, and fish can all be used to make koftas. 
Kofta is served hot with roti, naan, or boiled rice in a curry sauce. It's eaten with pulao, mashed potatoes, and French fries in some cases. Kofta is known as kafta in Lebanon, and it is made with ground beef, parsley, black pepper, and salt.
Ingredients:
Salt as needed. 
2 TBSP Chopped Coriander. 
2 TBSP chopped Mint. 
2 TBSP Chopped Green Chili. 
2 chopped onions. 
2 TBSP Garlic & Ginger Paste. 
1 1/2 TBSP Cashews, Crushed. 
1½ teaspoons roasted gramme powder. 
Nuts(chaar maghz) , 1 1/2 TBSP. 
a single egg. 
Cumin powder, 2 tbsp. 
2 TBSP coriander, chopped. 
1 tbsp. Hot spice. 
4 Crushed Tomatoes. 
Yogurt (1 cup). 
2 tablespoons red chilli powder. 
1 teaspoon turmeric powder. 
1 quart of cooking oil. 
3 Tablespoons Cream. 
1/2 cup of boiling water.
Instructions for Chicken Kofta:
In a pot, combine the chicken mince, half onion, ginger & garlic paste (1 tbsp), salt, mint, green coriander, green chilli, egg, hot spices (12 tsp), cumin powder (1 tbsp), coriander crushed (1 tbsp), roasted gramme powder, nuts (char maghz), red chilli powder, and crushed cashews. 
Next, roll the dough into small balls and chill for 20-25 minutes. 
Heat the cooking oil in a pan and shallow fry the meatballs. 
In a large cooking pot, heat half a cup of cooking oil and one and a half onions until light brown. 
Stir in the ginger and garlic paste, tomato puree, salt, red chilli powder (1 tbsp), turmeric, coriander powder (1 tbsp), cumin powder (1 tbsp), hot spices (12 tbsp), yoghurt, milk, and half a cup of hot water, and cook for 8-10 minutes. 
Now add the meatballs and cook for 3-4 minutes on low heat, garnishing with ginger, green coriander, and green chilli. 
Your delicious Chicken Kofta Curry is now ready to eat.


Serving:
Whenever you try this recipe for kofta try serving the recipe with naan or chawal (rice).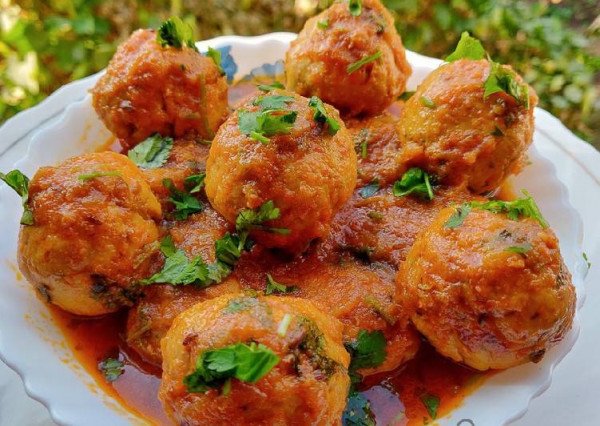 Follow Food of Pakistan for the Best Blogs and Recipes related to Traditional and famous foods of Pakistan.