Kheer Recipe
Feb 02, 2021
Recipe Details:
Basically, rice kheer is rice pudding made from basmati rice, milk, nuts and saffron. Along with Seviyan Kheer (Vermicelli Pudding) and Phirni (thick rice pudding), This delicious rice kheer can be made for any festival or celebration including Eid or as a sweet dessert that you can serve after meals.
PREP TIME: 10 mins
COOK TIME: 25 mins
TOTAL TIME: 35 mins
COURSE: Dessert
CUISINE: Indian
SERVINGS: 4 people
INGREDIENTS:
1)

2 cups coconut milk

2) 2 cups milk

3) 3 tbsp white sugar

4) ½ cup Basmati rice

5) ¼ cup raisins

6) 3-4 crushed green cardamom pods

7) ½ tbsp rose water

8) ¼ cup sliced almonds, toasted

10) ¼ cup chopped pistachio nuts

11) 1 tbsp ghee
INSTRUCTIONS:
1) Rinse 1/2  cup of basmati rice a few  times and then soak in enough water for 15 to 20 minutes .

2) Heat a deep bottom pan over medium heat. Then add 1 teaspoon of ghee and add the soaked and drained rice.                             3) Add 3-4 crushed green cardamom pods as well.

4) Add milk to the pan and mix well . Turn the heat to medium-high.

5) Let the milk boil, it'll take about 10-12 minutes. Stir in the center so that the milk doesn't stick to the bottom of the pan.

6) After the milk has boiled, reduce the heat to low and allow the kheer to cook for about 25 minutes at low heat. Stir after two minutes at most.

7) After 25 minutes, the milk will be reduced considerably and the kheer will look thick and the rice will be fully cooked.

8) Add in the sugar and mix , also add the nuts .

9) Cook the kheer for a further 5 minutes after adding the sugar and nuts. Sugar will be fully dissolved. Don't worry, maybe at this point your kheer doesn't look very thick.It will continue to thicken as it cools down.

10) Remove pan from heat. Stir in rose water .Garnish with more nuts and toasted sliced almonds , serve kheer warm or chilled.
NOTES: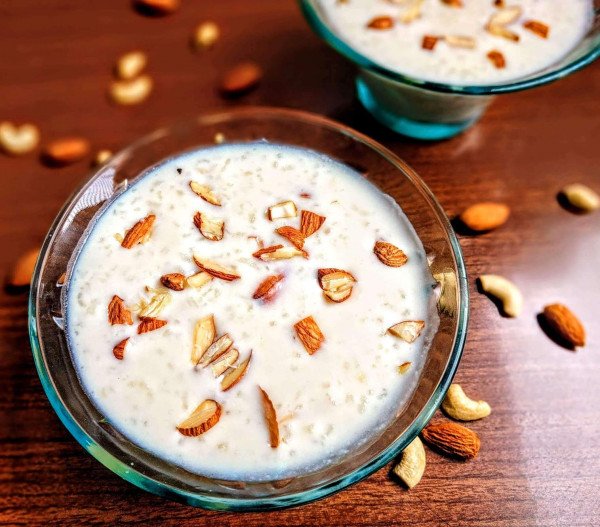 You can taste the kheer with the saffron. For this reason, crush the saffron strands and add 1-2 tablespoons of warm milk. When you see a pleasant yellow color, add it to the milk after the kheer has been cooked for almost 20-25 minutes.

The amount of dry fruit, nuts and sugar can be changed to suit your taste.
Follow Food of Pakistan for the Best Blogs and Recipes related to Traditional and famous foods of Pakistan.