Chicken Pulao Recipe
Jun 01, 2021
Recipe Details:
Chicken Pulao :
This finger-licking spicy One Pot Chicken Pulao or Chicken Tahari is cooked with a satiating mixture of chicken, tomatoes, and aromatic basmati rice.
This dish is ideal for a quick meal because everything is cooked in one pan, yielding a delightful, flavorful Pulao. Check out (Traditional Pakistani Pulaos).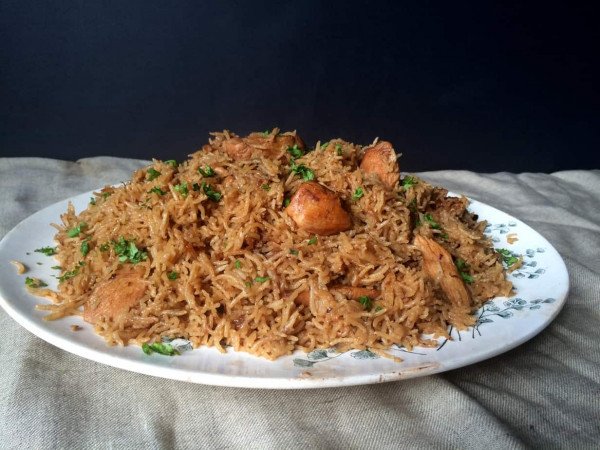 Chicken Pulao Recipe :
| | |
| --- | --- |
| Prep Time: 10 mins | Cook Time: 50 mins |
| Total Time: 1 hour | Serving: 6 |
Home Made Chicken Pulao Recipe :
Ingredient:
Chicken, 900 gm. 
5 garlic cloves. 
8 cardamom pods, green. 
a half teaspoon of turmeric. 
7 green chili peppers. 
6 garlic cloves. 
1 teaspoon garam masala powder 3 cup basmati rice. 
5 quarts water. 
3 inch ginger root. 
Bay leaf, 6 leaf. 
1 teaspoon cinnamon powder. 
1 teaspoon powdered red chili. 
anise with six stars. 
yoghurt (four tablespoons) (curd). 
2 sliced onions.
Salt to taste.

For Garnishing:

1 lemon. 
8 leaves coriander leaves.



How to make Chicken Pulao?
Just follow these simple steps to make delicious Chicken Pulao at home.
Step by step method:
1st step: Garlic and ginger should be crushed, and the chicken should be chopped.
Every occasion or gathering benefits from the addition of chicken pulao. This classic dish is a delectable combination of seasoned chicken, rice, and aromatic herbs that requires no introduction. This dish can be prepared in a variety of ways, and we offer the simplest recipe for you. Here's how to make it at home using components that are readily available. Wash and peel the vegetables, then crush the garlic and ginger in a mortar-pestle. To make a paste, finely crush them. Take the chicken and cut it into bite-sized pieces.

Step 2: Prepare the chicken by marinating it.
Add garam masala, red chili powder, salt, turmeric powder, and half of the ginger-garlic paste to a bowl. The marinade is now ready to use. Set aside for 20 minutes to marinate the chicken pieces in a prepared marinade paste.

Step 3: Saute the onion and entire spices.
In a nonstick pan, heat the oil over medium heat and add the bay leaves, cardamom, cloves, cinnamon, green chilies, and star anise. In a large mixing bowl, combine all of the ingredients and add the chopped onions. Cook over medium heat until the onions are shiny and translucent.

Step 4: Toss in the marinated chicken and yoghurt.
Add the marinated chicken and simmer until all of the ingredients have been absorbed by the chicken. Cook for 3-4 minutes after adding the yoghurt.

Step 5: Combine the rice, water, ginger-garlic paste, and seasonings in a large mixing bowl.
Rice, 5 cups water, turmeric powder, and the leftover ginger-garlic paste are added to the pot. Season with salt and toss thoroughly. Allow the rice to finish cooking. Stir once in a while.

6th step: Serve homemade Chicken Pulao with garnishes!
Transfer the homemade Chicken Pulao to a serving plate and squeeze lemon over it after it's done cooking. Serve hot, garnished with coriander leaves.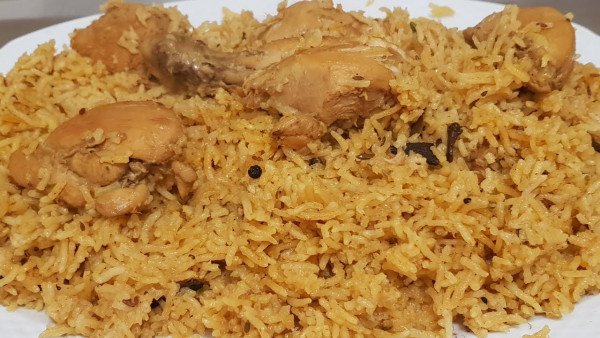 Note:
Cooking chicken pulao over a low flame will increase the flavor. 
For the finest flavor, use high-quality whole spices and long-grain basmati rice.


Follow Food of Pakistan for the Best Blogs and Recipes related to Traditional and famous foods of Pakistan.