Chicken Nihari Recipe
Feb 02, 2021
Recipe Details:
Nihari :
Chicken Nihari Recipe started around the finish of the eighteenth century in Nawab's Kitchen. (Nawabs were semi-self-governing leaders of royal conditions of South Asia in Mughal times and furthermore after that period). 
After Partition of India and Pakistan, the dish got very well known in Pakistan, uncommonly in Dehli and Karachi. Karachi foodies love hot food and Karachi Nihari is about flavors. (Beef Nihari Recipe)

| | | |
| --- | --- | --- |
| Prep Time: 15 mins | Cook Time: 30 mins | Total Time: 45 mins |
| Course: Main Course | Cuisine: Pakistani | Serving: 4 persons |
Chicken Nihari Recipe :
INGREDIENTS: 

1 cup olive oil or cooking oil. 
1/2 kilo Boneless Chicken. 
2 tbsp Chili Powder (Red). 
Turmeric powder, 1 tbsp. 
3 tablespoons Nihari Powder is a powder made from nihari. 
4 gallons of warm water. 
4 tablespoons flour (Maida). 
To serve as a garnish, combine the following ingredients in a small mixing bowl. 
Leaves of coriander. 
Juice of a lemon. 
Chilies (green). 
Slices of ginger.
How to make Chicken Nihari?
Just follow these simple steps to make chicken nihari at home.
INSTRUCTIONS:
Heat one cup of cooking oil in a big pan over a high flame on the stove.

Cook for 5 minutes in this oil with half a kg of boneless chicken till golden brown.

Mix in one tablespoon of red chili powder, one tablespoon of turmeric powder, and three tablespoons of Nihari powder.

Boil it with four glasses of heated water. After the water has boiled, reduce the heat to medium and cook the chicken nihari for 40 to 45 minutes.

It's been 40 minutes. Remove the excess from the nihari and set it aside after turning off the flame.

On the other hand, take four tablespoons of all-purpose flour (maida) and add as much water as needed. Mix thoroughly to obtain a thick mixture, then set aside.

After 40 minutes, keep stirring the nihari and add the maida mixture.When the nihari gravy has thickened, turn off the heat and serve in a bowl.

Remove any leftover oil and serve with coriander, green chile, ginger slices, and lemon juice squeezed on top.
TO SERVE :

Warmth 2 tablespoons of margarine or ghee on a skillet and include a spot of Kashmiri stew powder. 
All the while fill Nihari in a serving bowl, decorate with ginger and coriander leaves. Pour warmed margarine the embellishment and present with lemon wedges.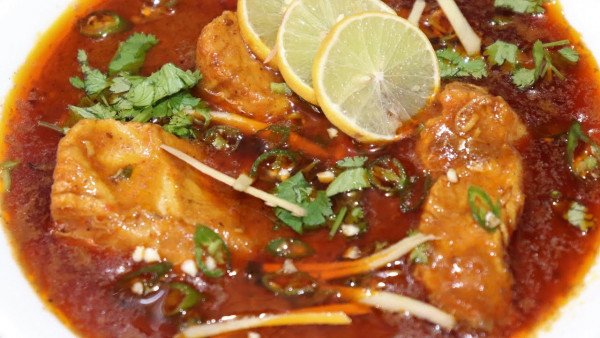 NOTES:

Attempt to make Nihari 4-6 hours ahead and let it sit for a few hours for best taste. You can substitute our Nihari masala with locally acquired Nihari Masala to spare time. Include more masala if necessary. On the off chance that you make Nihari every now and again, I recommend twofold or triple the formula and make large container of zest blend and store in refrigerator or cooler. This stays useful for as long as a year.


Follow Food of Pakistan for the Best Blogs and Recipes related to Traditional and famous foods of Pakistan.