Chicken Manchurian Recipe
Feb 03, 2021
Recipe Details:
Chicken Manchurian :
One of the easiest Indo-Chinese chicken recipes is Chicken Manchurian. In Pakistan, too, it is very popular. With less ingredients and less calories, this recipe offers restaurant-style Manchurian chicken. Did you know the Manchurian chicken isn't of Chinese origin? It was first introduced by Nelson Wang in Calcutta, a city in India. Indian spices, an additional burst of garlic, and soy sauce were wedded to the Chinese style batter-fried chicken dunked in sweet and sour gravy.
Here's a surefire way for all Chinese cuisine lovers to satisfy your loved ones or guests. A finger-licking mix that everybody craves is Chicken Manchurian along with hot fried rice. Manchurian Chicken is pretty easy to make. Try this chicken Manchurian recipe from Food Of Pakistan and enjoy the Manchurian chicken-style restaurant at home. (Chicken Shashlik Recipe). 
Chicken Manchurian Recipe :
| | |
| --- | --- |
| Prep Time:  25 mins | Cook Time:  25 mins |
| Total Time:  50mins | Servings: 5 |
Restaurant Style Manchurian Chicken :
INGREDIENTS :
For Marination:
500 gm Boneless chicken. 
1 tsp Garlic paste. 
1 egg (whisked). 
Salt to taste. 
White pepper to taste. 
1 tbsp Oil. 
1 tbsp flour.
For Sauce:
How to make Chicken Manchurian?
Just follow these simple steps to make Chicken Manchurian at home.
INSTRUCTIONS:
Marinate with flour, egg, garlic powder, black pepper, white pepper, salt, and 1 tablespoon of oil and cut the chicken into small cubes. (Half an hour, approximately). 
Now heat a deep pan with oil over medium heat. Deep fry and holding the marinated chicken aside. 
In a pan, heat 2 tablespoons of oil and saute the chopped garlic. Then add the green pepper and spring onion and fry for a couple of minutes. Now add the pieces of pineapple and fry for another 2 minutes. 
Add the fried chicken and stir in the ketchup, salt, black and white pepper, chili garlic sauce. Add a glass of water and cook for 3 minutes. 
Apply the Worcester sauce and leave for a few minutes to simmer. 
Dissolve the cornflour in a little water and stir in the sauce. Let it boil for a few minutes or until the sauce is thickened.

Note: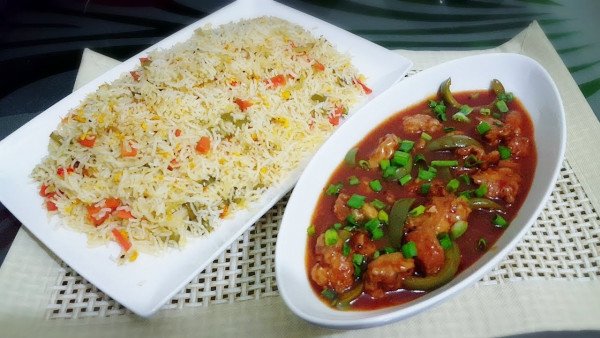 Apply a few drops of lemon juice and dish it out just before serving. The delicious Manchurian Chicken is ready to eat.
Follow Food of Pakistan for the Best Blogs and Recipes related to Traditional and famous foods of Pakistan.