Chicken Corn Soup
Mar 09, 2021
Type: Food recipe
Recipe Details:
Chicken Corn Soup :
Chicken Corn Soup is a nutritional and tasty starter to have before your dinner. It is heightened with black pepper, salt, vinegar-flavored chicken, soy sauce, corn, and eggs. Prepare the most popular chicken and corn chowder using the recipe posted on this blog. The best thing to have for sour throat and flu is good and savory Chicken Corn Soup. (Types of Soup in Pakistan).
It is noted that it is easy and fast to make chicken corn chowder and to have all the essential nutrients that any person requires to maintain good health. The inclusion of vegetables and proteins in the chicken and corn soup adds a wonderful natural flavor that is gluten-free. There are numerous ways of making chicken soup, but it is made predominantly with sweet corn. Typically, it is an egg drop soup prepared with veggies, maize, and chicken.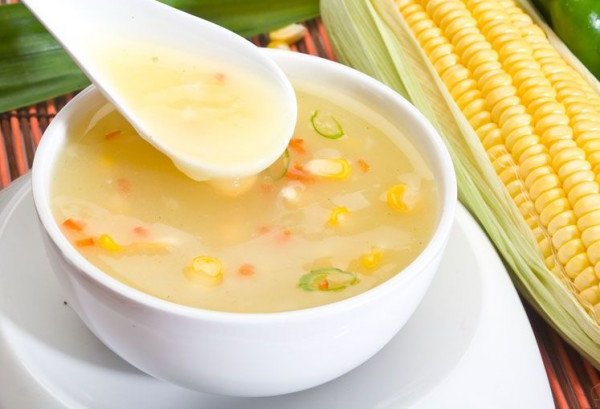 Chicken Corn Soup Recipe :
Course:

Soup

Cuisine:

Pakistani

Cooking Time:

35 minutes

Serves:

4-5
INGREDIENTS:

Corn Flour. 
Salt to Taste. 
1/2 Cup of Boil Chicken. 
2 Cup of Chicken Stock. 
1 Egg. 
1 tbsp of Vinegar. 
1 tbsp of Soya Sauce. 
1/2 tbsp of Black Pepper. 
3 tab of Boil Corn. 
1/2 tbsp crushed garlic. 
1 tbsp salt. 
1/2 cup of nodules boil. 
Soups for Winter :
How to make Chicken Corn Soup?
Just follow these simple steps to make chicken corn soup at home.
INSTRUCTIONS:
Sauce 1:
Two finely sliced green chillies,  half a cup of vinegar, one ounce of finely sliced onion, one teaspoon of soy sauce, all mixed together and set aside.
Sauce 2: 
Add 1 tsp of chili flakes,  2 tbsps of vinegar and 4 dstspoons of water, half tsp of salt, half tsp of sugar, half tsp of cornflour to a small saucepan, combine, turn on the heat, bring to a boil for 1 minute. Using the soup or other dishes to turn off, cool, and serve. (Or use a decent chili sauce like Encona, Sambal Olek, for example). 
For the soup:
Take a whole small chicken in order to produce the carcass, you will need to extract as much meat as possible from this, the easiest way to do this is to cut the chicken at joints, then remove much of the meat approximately. If you have a butcher who values your custom, he will do this for you or use ready-made stock of chicken.Wash the nearly deboned chicken with cold water, add to a pan, add the garlic, salt and black pepper.   Bring 2 pints of cold water to a rolling boil and cook until about half of the water evaporates (30 mins). 
In a liquidizer, pulverize the corn kernels and add to the soup mixture, boil for 5 minutes at full heat or use tinned creamed sweetcorn. 
Add 2 tablespoons of corn flour and water mixture at a time, until the desired consistency of the soup thickens. 
A little at a time, add the beaten egg, quickly swirling the mixture with a fork to form 'threads' of eggs. Bring it to the boil and keep it ready before serving for the final point.
Follow Food of Pakistan for the Best Blogs and Recipes related to Traditional and famous foods of Pakistan.