Chana Pulao Recipe
Sep 14, 2021
Recipe Details:
Pakistani Cuisine :
Chana pulao is a fragrant, one-pot spicy chickpea rice or pilaf made with fragrant basmati rice, melt-in-your-mouth white chickpeas (garbanzo beans), sharp onions, tangy tomatoes, healthful herbs, and powerful spices. With a side of vegetable salad, yogurt dip or raita, or plain yogurt, this Pakistani chickpea rice makes for a substantial, comforting, and fulfilling supper. ( Chicken Pulao Recipe )


Chana Pulao Recipe :
Check out the Famous and  Traditional Pakistani Pulaos
| | |
| --- | --- |
| Prep Time: 20 mins | Cook Time: 30 mins |
| Total Time: 50 mins | Serving: 5 |
Ingredients :
Main Ingredients For Chana Pulao :
a third of a cup of chickpeas (white) (garbanzo beans or saved chana or kabuli chana or chole). 
200 grams rice, 1 cup heaping basmati rice. 
1 thinly sliced medium to large onion. 
1 medium chopped tomato. 
a quarter teaspoon of red chili powder. 
Garam Masala Powder, 1 tsp. 
1 teaspoon turmeric powder (ground turmeric). 
Optional: 1 pinch saffron strands. 
1 teaspoon yogurt or 12 teaspoon lemon or lime juice (curd). 
2 tblsp. ghee (clarified butter) or oil. 
For pressure cooking the rice, you'll need 1.75 cups of water. 
garnish with a few chopped mint leaves (or coriander leaves). 
season with salt as needed.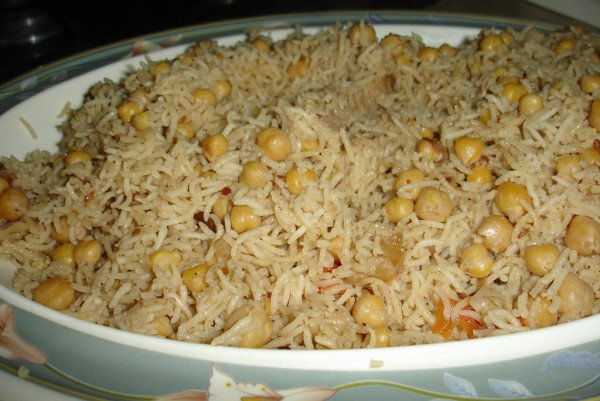 Whole Spices :

1/2 tblsp caraway seeds. 
1 cardamom, black. 
2 green cardamoms, tiny. 
2 single thin mace strands. 
1 tej patta 1 tej patta 1 tej patt (indian bay leaf). 
2 to 3 garlic cloves. 
1 cinnamon stick, 1 inch long.
For the Paste Green :

1 inch to 3/4 inch ginger, chopped. 
3–4 garlic cloves, chopped. 
1 tablespoon chopped mint leaves. 
3 tablespoons chopped coriander leaves (cilantro). 
1 chopped green chili. 
For grinding, use 1/2 to 1 tablespoon of water.
How to Make Chana Pulao?



Here's the Chana Pulao Recipe just follow these simple steps to make delicious Chana Rice Pulao at home.
Instructions :

Preparation: 
Add 1/2 teaspoon salt and pressure cook for 12 to 14 whistles, or until the chickpeas are soft and cooked through.
Drain and set aside the cooked chickpeas.
Rinse the rice thoroughly in water until the water is starch-free.
After that, soak the rice for 30 minutes in enough water. Remove the strainer and set it aside.
In a chutney grinder or magic bullet, make a smooth paste of the ingredients listed under "green paste" with very little water. Set aside the green paste.
The tomato should be chopped and the onion should be sliced.
Making Chana Pulao :

Heat the ghee or oil in a pressure cooker and add all of the entire spices, including caraway seeds, cardamoms, mace, cinnamon, cloves, and bay leaf.
Add the chopped onions once the whole garam masala or whole spices have been fragrant for a few seconds.
Cook the onions until they are golden brown.
Add the green paste and continue to cook until the raw ginger-garlic fragrance fades. Cook for two minutes after adding the chopped tomatoes.
After that, add the turmeric, red chili, and garam masala powders.
After a minute or so, add the basmati rice and cook for another minute or so. Stir everything together well and cook for a minute.
Drain the cooked chana and add it to the pot (chickpeas).
Mix in the curd or lemon juice, as well as the saffron threads, until everything is thoroughly combined.
1.75 cup water is now added.
Salt the pulao and pressure cook it for 2 to 3 whistles. I cooked for 2 whistles under pressure.
Only open the lid of the cooker after the pressure has settled on its own.
Fluff the rice gently. Serve with coriander or mint leaves as a garnish.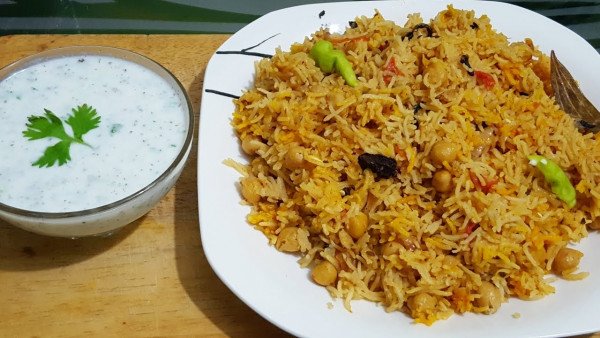 Serving :

This chole pulao goes well with any raita and a salad on the side. Serve chole pulao with raita, pickle, papad, or any veg salad while it's still hot.
Follow Food of Pakistan for the Best Blogs and Recipes related to Traditional and famous foods of Pakistan.