Bun Kabab Recipe
Jun 07, 2021
Recipe Details:
Pakistani Bun Kabab  :
In Pakistan and India, bun kabab is a filling and inexpensive snack. It can be cooked with either a meat patty (Shami Kabab Recipe) or a vegetarian patty (like this one).

The veggie patty is shallow fried, then sandwiched between two soft buns, drizzled with spicy mint chutney, topped with chopped red onions for crunch, and then topped with an omelette to bring it all together. Details of (Pakistani Bun Kabab).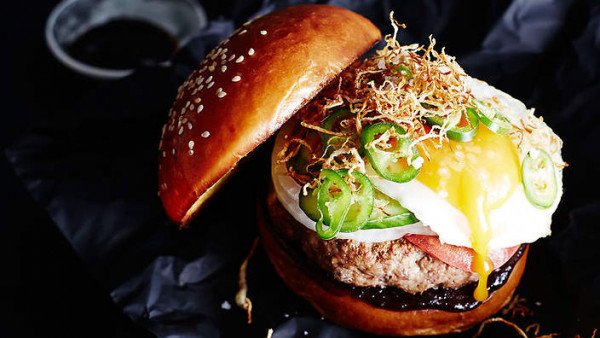 How To Make Bun Kabab?
To make the vegetarian patty, combine all of the ingredients in a large mixing bowl. To prepare the patty, combine the lentils, potatoes, and all of the seasonings. The patties are then shallow fried and set aside. This recipe makes about 8 vegetarian patties, although the assembly instructions are for 4 Bun Kabab. If desired, the remaining patties can be frozen. 
To make the chutney, combine all of the ingredients in a large mixing bowl. You can serve these Bun Kababs with Mint Chutney (recipe card notes), Tamarind Chutney (recipe card notes), or a mix of the two. Check out my Green Tamarind Chutney recipe. 
Prepare the omelette. In a small amount of oil, whisk the egg, season with salt and red chili powder, and cook. Four omelettes can be made from a single omelette. 
Assemble the Kabab Buns. The buns should be toasted. Place a vegetarian patty on top of it and smooth it out evenly. After that, pour some chutney on top. An omelette, fresh coriander, and sliced red onions are all good additions. Serve the bun closed.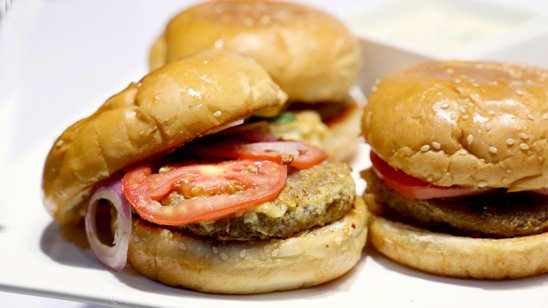 Pakistani Street Food :
| | |
| --- | --- |
| Prep Time: 10 mins  | Cook Time: 40 mins |
| Total Time: 50 mins | Serving: 7 |
Bun Kabab Recipe :
Ingredients:
For The Lentil Mixture.
1 cup chickpeas, split. 
2 cup of liquid. 
6 red button chilies. 
1-inch ginger 4 garlic cloves.
2 tablespoons cumin seeds.
4 medium potatoes, peeled and sliced into large bits.
For Making Patty.
2 tsp masala chaat. 
2 tablespoons mango powder.
1 tsp garam masala (garam masala).
A teaspoon of cumin powder.
1 teaspoon powdered coriander.
4 green chilies, diced 1.5 teaspoon salt.
2 tiny chopped red onions.
4 tbsp coriander leaves (optional).
2 eggs for dipping in frying oil.
For The Chutney.
1 cup chutney with green mint take note.
tamarind chutney/pulp, 6-8 tbsp (see remark).
For Assembling.
8 delicious buns.
2 red onion slices coriander leaves.
4 quail eggs. 
Bun Kabab Instructions:
Before cooking the lentils, soak them for 3-4 hours. 
In a pot, combine all of the ingredients for the lentil mixture, except the potatoes, and cook over medium-low heat until the lentils are 80 percent soft. After that, add the potatoes and continue to cook until both the lentils and the potatoes are thoroughly cooked. Any residual water should be dried. Using the back of a spoon, mash or ground the mixture. 
In a mixing dish, combine all of the patty ingredients except the egg and the oil. Toss in the lentil and potato mixture. Mix thoroughly. 
Make tiny patties out of the mixture. Dip the patties into an egg that has been whisked until it is foamy. Cook until golden brown on both sides in a shallow fryer. 
Place on a paper towel to absorb any excess liquid. 8-10 lentil patties will be made from this recipe. 
Combine the green chutney and tamarind pulp in a bowl and set aside.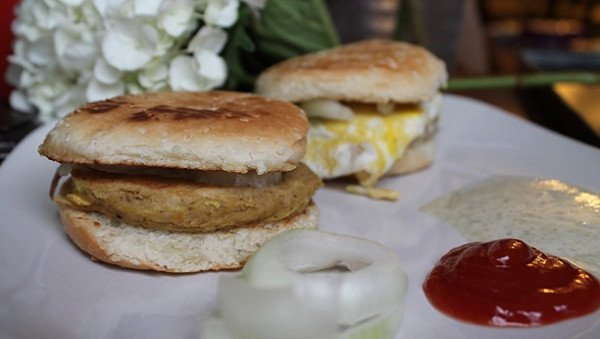 Note:

1/2 tsp salt and 1/2 tsp red chili powder are whisked into the eggs. Cook the egg in a pan with 1 tbsp of oil, just like an omelette. Remove each omelette and cut it in half to make four pieces. 
Your sweet buns should be toasted. 
To assemble, place your lentil patty on the bottom bun, pour some chutney on top, add some red onion slices and coriander leaves, top with the omelette, then close with the top bun. 
Enjoy with a side of additional chutney!

Follow Food of Pakistan for the Best Blogs and Recipes related to Traditional and famous foods of Pakistan.