Aloo Palak Recipe
Jun 17, 2021
Recipe Details:
Aloo Palak :
Simple and nutritious Aloo Palak is a vegan Pakistani meal that combines spinach and potatoes with spices. Aloo Palak is a healthy and vegan Pakistani-style stir-fry in which potatoes and spinach are cooked together with only a few spices! It's delicious with any flatbread! 
Our version of aloo palak is cooked with only a few spices and is quite soothing. It's best served with roti or paratha, a flatbread. (Check Palak Gosht Recipe)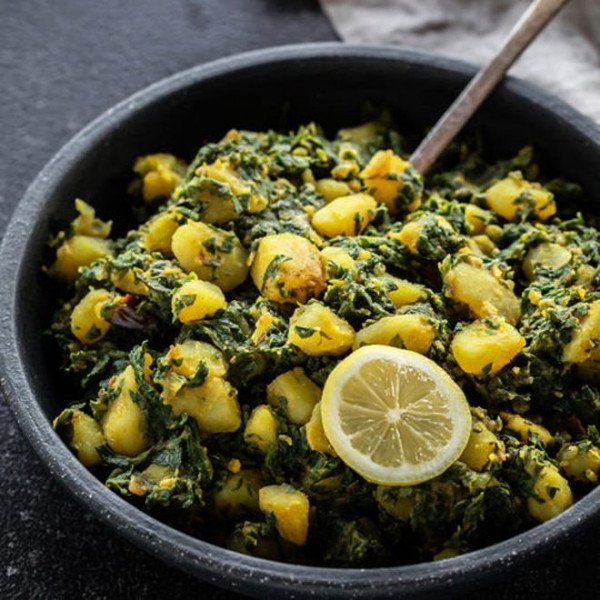 Aloo Palak Recipe :
Prep Time: 10

mins

Cook Time: 20

mins

Total Time: 30

mins

Course: Main Course
Cuisine: Pakistani
Serving: 5
Ingredient:
Home Made Aloo Palak Recipe.
10 mL 2 teaspoons oil (I used avocado oil).
A quarter teaspoon of cumin seeds.
Asafoetida is another name for pinch thing. 
5–6 large garlic cloves, peeled and sliced. 
3 broken dried red chilies. 
1 small red onion, diced (60 g). 
2 medium potatoes (about 500 g) chopped into little pieces (about 1/2 inch). 
A quarter teaspoon of turmeric powder. 
1/2 teaspoon powdered coriander. 
a quarter teaspoon of chili powder. 
1/2 teaspoon salt + 1/8 teaspoon pepper, or to taste. 
3 tbsp. water (as needed). 
3 to 4 cups finely chopped spinach (8-10 oz finely chopped spinach). 
A quarter teaspoon of garam masala. 
1⁄2 a lemon's juice.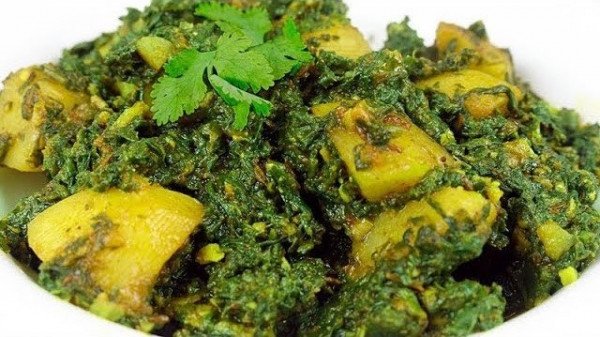 How to make Aloo Palak?
Just follow these simple steps to make delicious Aloo Palak at home.
Instruction:
Heat the oil in a large skillet over medium heat.
Add the cumin seeds to the heated oil and let them sizzle for a few seconds.
After that, add the hing, garlic, and dried red chilies. For extra heat, break the dried red chilies before adding them to the pan. 
Cook for 1 minute, or until the color of the garlic begins to change. After that, toss in the chopped onion.
Cook for 3 minutes, or until the onion is tender and transparent.
Toss in the chopped potatoes and stir to combine.
3 tablespoons water, turmeric, coriander, red chili powder, and salt.
Toss to combine until the masala is well distributed among the potatoes. 
On medium heat, cover the pan with a lid and cook the potatoes for 6 to 7 minutes, or until almost done. Every 2 minutes or so, open the cover and stir. 
Slowly drizzle in the chopped spinach. After each addition, stir until the leaves have wilted. After adding all of the spinach, cook for 3 to 4 minutes. 
Mix in the garam masala. If you want to keep things simple, leave out the garam spice. 
Squeeze in the lemon juice and stir to combine. At this stage, there should be no water left.
Serving:
Delicious Aloo Palak is ready to Serve with roti on the side.


Follow Food of Pakistan for the Best Blogs and Recipes related to Traditional and famous foods of Pakistan.