Aloo Gosht Recipe
Sep 01, 2021
Recipe Details:
Aloo gosht is a meat dish popular in Pakistani, Bangladeshi, and North Indian cuisines that originated in the Indian subcontinent.

What is Aloo Gosht?

Aloo Gosht is the classic Pakistani meal, the type that doesn't appear on many restaurant menus but is a household staple. Every family has their own variation of aloo gosht, whether it's made with goat meat or beef, bone-in or boneless, and they all appear to be excellent.


| | |
| --- | --- |
| Prep Time: 15 mins | Cook Time: 30 mins |
| Total Time: 45 mins | Serving: 5 |

How to Make Aloo Gosht?

Here's the recipe just follow these simple steps to make delicious Aloo Gosht at home.


Ingredients :

1/2 pound of mutton
Potatoes, 5-6


Instructions :

Heat the oil and add the cloves and black cardamom pods.

Add the chilli powder, garlic and ginger paste, coriander powder, and salt after a minute.

It's preferable to combine all of the masala ingredients on a plate and then add a quarter cup of water. The water prevents the masala from burning.

Add the mutton after a minute or two, when the masala is softly browned and the oil bubbles increase. Allow 5 to 10 minutes on a medium to high flame.

Keep the cooking vessel open to allow the water and odor emitted by the meat to dissipate.

In the meantime, in a mixer, combine the fried onions and curd for a few seconds and set aside.

Add the blended onion and curd mixture to the meat once the meat is somewhat cooked and the oil is boiling. This mixed ingredient is the key to the silky gravy.

Buno, or cook the curd, on medium heat for 5–10 minutes.

Add a cup of water for the gravy when the oil bubbles rise. It should be an inch or two higher than the meat. If you're planning to use the pressure cooker, a cup and a half of water could be added.

For aloo salan, I use the pressure cooker, which allows one seeti, or whistle, for the meat. Check the meat, which should be half done, once the cooker has cooled.

Place the potatoes in the cooker and cover it. With one more whistle, the potatoes and meat should be done.

If you're cooking without a cooker on a low flame, keep an eye on the meat. When it's halfway done, add the potatoes and continue to cook until they're both done.

Top with a dusting of garam masala and fresh coriander.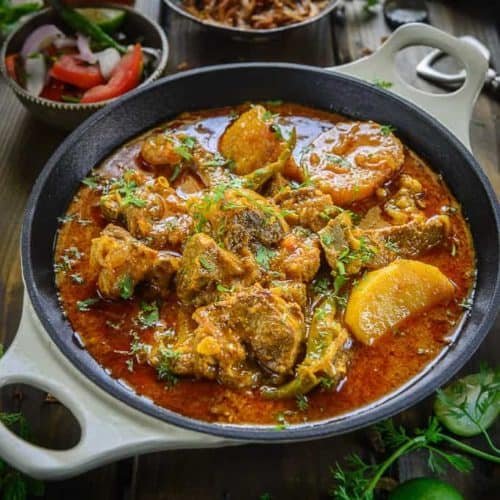 Serving :

Serve with your favorite carbohydrate and fresh coriander for the ultimate Pakistani comfort food experience. Eat with Chapati, Naan, Or Rice.


Follow Food of Pakistan for the Best Blogs and Recipes related to Traditional and famous foods of Pakistan.