Aloo Gobi Dhaba Style Recipe
Aug 30, 2021
Recipe Details:
Cauliflower and Spiced Potatoes This Aloo Gobi Dhaba Style is flavor-packed, incredibly soothing, vegan, and simply the finest aloo gobi you've ever had!

What is Aloo Gobi?
Aloo Gobi (Potatoes with Cauliflower) is a traditional vegetarian Pakistani meal (gobi). It's a one-pot, super-easy, comforting meal that comes together quickly. It's delicious as a side dish or served over rice. Onion or tomato are two simple additions that can be made here. In either event, this recipe is tasty, and you'll want to cook it every night. ( Mixed Vegetable Curry Recipe )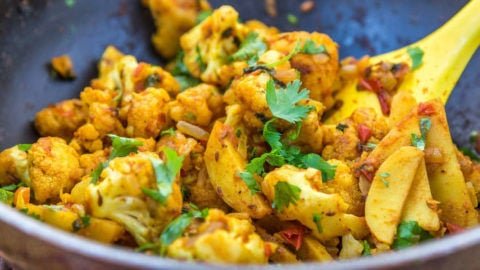 Aloo Gobi Dhaba Style Recipe :
| | | |
| --- | --- | --- |
| Prep Time: 10 mins | Cook Time: 20 mins | Total Time: 30 mins |
| Course: Main Course | Cuisine: Pakistani | Serving: 4 |
How to make Aloo Gobi?
Here's the recipe of Dhaba Style Aloo Gobi just follow these simple steps to make delicious Aloo Gobi at home. ( Aloo Shimla Mirch Recipe )
INGREDIENTS :
2 medium potatoes, cut or cubed. 
1 medium cauliflower, chopped into small florets. 
1 medium sliced onion. 
2 medium tomatoes, chopped. 
a quarter teaspoon of cumin seeds. 
1.5 tablespoons garlic-ginger paste. 
turmeric powder (1/2 teaspoon). 
1/2 teaspoon amchur (dry mango powder). 
1/4 teaspoon red chili powder, or to taste. 
a quarter teaspoon of garam masala. 
1 teaspoon powdered coriander. 
3–4 teaspoons olive oil. 
2 tablespoons cilantro, chopped. 
season with salt to taste.

Step By Step INSTRUCTIONS To make Aloo Gobi :
In a medium-sized pan, heat 2 teaspoons of oil. Fry the cauliflower florets for 2-3 minutes before adding the sliced potatoes. 
Fry for 7-8 minutes on medium-low heat, or until brown spots appear on the potatoes and cauliflower. 
Drain on paper towels and put aside. 
Heat 1.5 teaspoon oil in the same pan over medium heat, then add cumin seeds and let them crackle. 
Cook for another 2 minutes, or until the onions are completely translucent. 
Cook for another 2 minutes, or until the raw scent has gone away, before adding the ginger-garlic paste. 
Cook for 2 minutes, or until the tomatoes are somewhat softened. 
Add the turmeric, red chili powder, coriander powder, and amchur powders (mango powder). 
Cover the pan and simmer the masala for 2-3 minutes before mixing in the potatoes and cauliflower. 
Mix in the chopped coriander leaves thoroughly. 
Cook the potato and cauliflower for 5-6 minutes over medium-low heat with garam spices. 
Season with salt and simmer for another 6-7 minutes on low heat, or until the potato and cauliflower are cooked but not soggy.
If the masala is sticking, a little water can be added. 1 tablespoon at a time, only enough to cover and cook the vegetables. I didn't use any water in my case.
Serve hot with any Pakistani bread and additional coriander leaves on top.





NOTES:

To make your aloo gobi more flavorful, add a lot of chopped cilantro leaves. 
You can also deep fry the potatoes and cauliflower until fully cooked before adding them to the masala. However, because deep frying adds calories, I don't prepare aloo-gobhi at home on a regular basis. 
To taste, adjust the amount of spice. For extra taste, sprinkle some kasuri methi (dried fenugreek leaves) on top.


Follow Food of Pakistan for the Best Blogs and Recipes related to Traditional and famous foods of Pakistan.