Traditional Makki ki Roti and Saag (Famous Punjabi Village dish)
Jan 05, 2021
Nothing is more delightfully aromatic than the love of a mother, a few moments from it is maybe the scent of soil, more uniquely our village, the one from which we all come, the one left behind by our forefathers when they migrated from the green pastures to the warmer climes.
Sarson ka saag and Makki ki roti:
What could be more identifiable to Punjab than to Sarson ka saag and Makki ki roti, an earthy, nutritious food rich in taste, nutrients, and colour; much like the land and the people it belongs to.
Sarson is a winter and early spring dish, and its seasonal abundance in Punjab on both sides of the Wagah makes it the best Punjabi choice meal. Sarson ka saag is a vegetarian dish made with mustard leaves. These leaves are also loaded with disease-fighting, energy-enhancing, and heart-healthy nutrients. These greens are renowned for their delicious taste and contain a great source of calcium, folic acid, magnesium, and vitamin K. Although the raw mustard greens are a little zesty, they mellow and taste yummy after cooking. Sarson ka saag was a rural people food in Punjab(Historically), and a hearty homemade saag suits the hard-working lifestyle of villagers laboriously working in the rich province's farm production. It may be a rich cuisine, but its pure fresh crop and organic composition make it a winner in the world of engineered and preservative-laden food.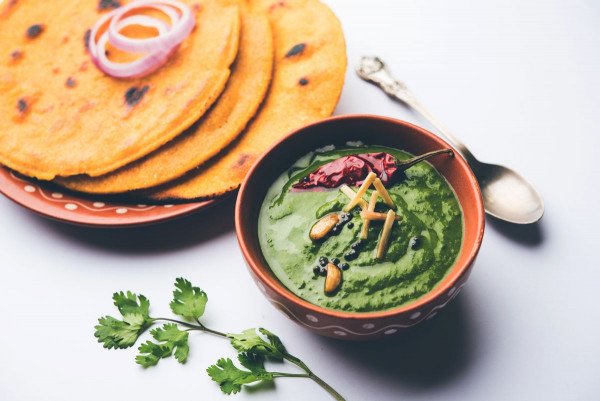 Mustard leaves give you great strength, and Makki ki roti is a great companion; it is gluten-free and has a unique, durable texture when cooked. Roti (bread) made with freshly harvested corn flour is mostly available in the winters of Punjab, as corn is grown in Punjab, and our forefathers brought it home from the fields for a woman to grind in the chakki (grinder mill) to make corn flour. It is a rough, round Punjabi bread made from corn. It is baked on a Tava (pan) and has both a soft and a hard feel.
Makki Ki Roti:
The name Makki Ki Roti is a literal translation of the ingredients, "cornbread," except in the Punjabi language.
Traditionally, the real Sarson ka saag is cooked without masala, only a splash of salt and ginger, mixed with greens; mustard greens, green chilli, spinach, and methi (fenugreek). And also the true chefs, our mothers, who adopt the age-old family recipe with no modern touch to fit contemporary lifestyles, always cook it the same way. It was said to be slow-cooked and manually stirred in its own water until it achieved the perfect edible creaminess of freshly churned butter, then filled with fried onions and topped with fresh farm butter and bitten for simple goodness.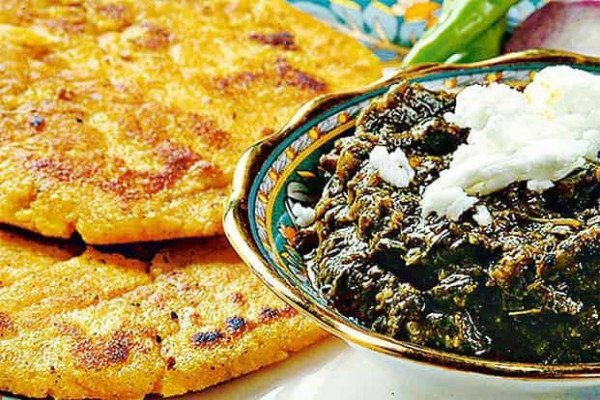 Sarson Ka Saag:

While Makki ki roti is typically served with Sarson Ka Saag, it tastes good with any leafy vegetable curry such as Spinach or Fenugreek. It might be along with some pickles, too. Makki ki roti is dense and difficult to digest. Carom seeds/Ajwain are added to the maize flour to aid digestion. Cilantro can also be added to the flour of the corn before kneading the roti dough. Traditionally, a lot of ghee is added to this bread when it is cooked. In the end, the slightly crisp Makki ki roti is topped with a spoonful of homemade butter and served with Sarson ka saag, salad, and buttermilk.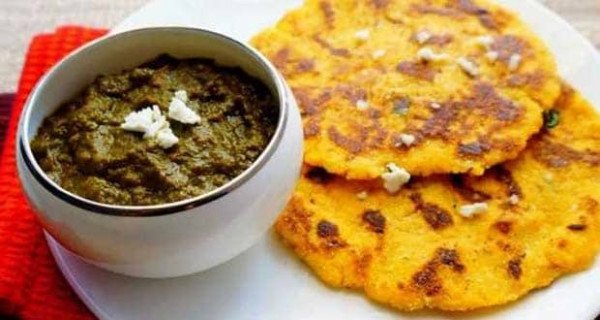 Follow Food of Pakistan for the Best Blogs and Recipes related to Traditional and famous foods of Pakistan.