Nan Khatai Biscuits
Dec 10, 2021
Nankhatai is a popular and traditional Pakistani cookie that is enjoyed by both children and adults. 
It is mostly used as a teatime cookie and is readily accessible in most Indian bakeries. Nankhatai are shortbread cookies or biscuits from Pakistan. Nankhatai are shortbread cookies made with all-purpose flour, sugar, and ghee (clarified butter) or butter in Pakistan.
Nan Khatai Cookies :
Nan khatai are Indian and Pakistani cardamom-flavored shortbread biscuits or cookies. They have a buttery melt-in-your-mouth flavour and a light crumbly texture because they are made with ghee, wheat, chickpea flour (besan), and almonds. With a cup of chai, of course. This recipe is inspired by Pakistani nan khatai in the Khalifa style.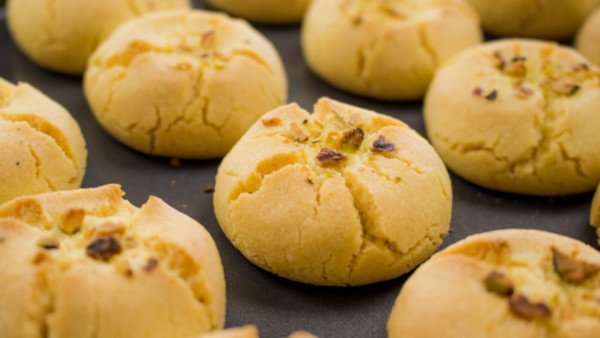 What is Nan Khatai ?
It's only reasonable to name a Nan Khatai a Pakistani Shortbread Cookie because it has all of the features of a shortbread biscuit. Nankhatai is a combination of the Persian words "naan" (bread) and "khatai" (biscuit).
Nan Khatai Recipe :
Nan khatai, also known as naan khatai or nankhatai, are cardamom-flavored biscuits from India. Nan khatai is a combination of the Persian words naan, which means bread, and khatai, which means biscuit. The biscuits' texture is akin to shortbread, with a buttery melt-in-your-mouth crumbliness. They're popular in both India and Pakistan. Despite its buttery flavour, nan khatai are cooked with ghee (clarified butter).
| | |
| --- | --- |
| Prep Time: 15 mins | Cook Time: 25 mins |
| Total Time: 40 mins | Serving: 8 |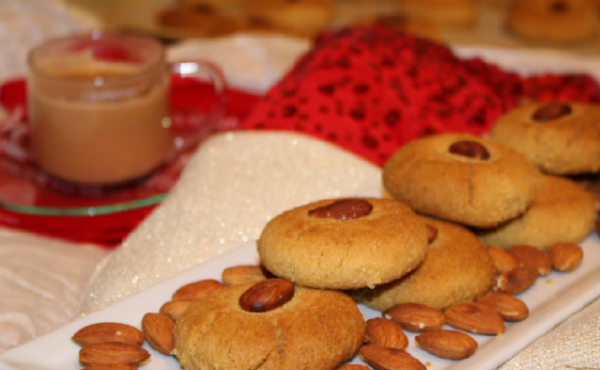 Ingredients :
125 grammes maida or 0.8 cup all-purpose flour.
40 grammes gramme flour or 0.2 cup gramme flour (besan).
0.4 teaspoon bicarbonate of soda.
a quarter teaspoon of baking powder.
20 grammes sooji (fine rava or cream of wheat) or 1.6 tbsp sooji.
1/8 teaspoon nutmeg powder (1.6 to 2.4 pinches) or 1.6 to 2.4 pinches grated nutmeg (jaiphal powder).
0.4 teaspoon powdered cardamom.
80 grammes 0.4 cup semi-solid ghee or butter at room temperature.
0.4 cup sugar (100-110 grammes) or 2/3 cup powdered sugar or icing sugar, or to taste.
dahi, 0.4 tablespoon (yogurt).
0.8–1.6 tablespoons milk.
a handful of almonds or chironji (charoli).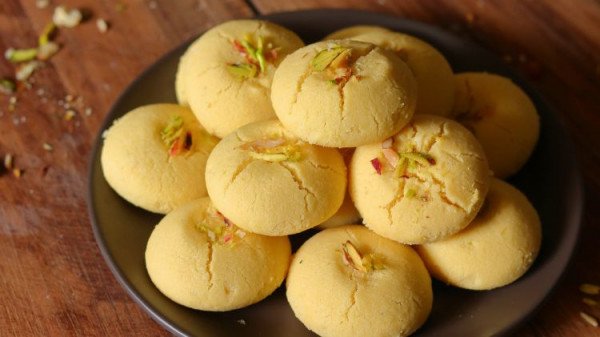 How to make Nan Khatai?
Follow these simple steps to make Nan Khatai at home.
Instructions:
Making Nankhatai Mixture:
In a grinder, finely powder the sugar.
Then, using an electric mixer or a blender, whip the ghee and powdered sugar together. You can alternatively use a food processor to make the cream.
The consistency of the mixture should be smooth, light, and creamy.

Sift together the all-purpose flour, besan (gramme flour), baking powder, and baking soda in a large mixing bowl. Set aside the sifting dry ingredients.

To the creamed ghee+sugar mixture, add curd (yoghurt). Mix thoroughly.

Now add the dry ingredients that have been sifted. Add the sooji (rava or cream of wheat), cardamom powder, and nutmeg powder to the mix as well.

Mix everything together gently. Do not knead the dough.
Making Nankhatai :
Simply combine the ingredients and knead into a homogeneous dough. If the ingredients is crumbly and won't come together to form a dough, add 1 to 3 tablespoons milk.
Form a dough by lightly combining the ingredients.
Pinch the dough into medium-sized balls.
In your palms, roll them evenly. Flatten them somewhat. On top, lightly press chironji or almonds.
You can also use a fork or toothpick to form criss cross designs on the nankhatai.
Baking Nankhatai :
In a baking tray, place the nankhatai.
As they grow while baking, leave some space between them.
Preheat the oven to 180°C and bake the nankhatai for 20-25 minutes, or until light golden.
Remove them from the oven and lay them on wire racks to cool.

When the nankhatai has cooled, put it in an airtight container.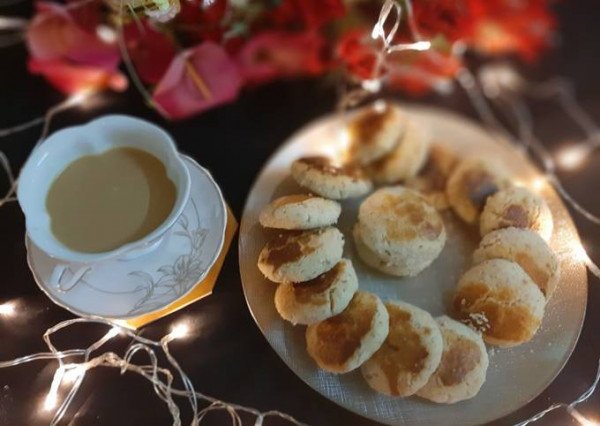 Notes :
Keep an eye on the temperature of your oven when baking because it varies depending on the model. If the nankhatais aren't fully done, bake them for a few minutes longer.
To make nankhatai in microwave oven :
The microwave mode of the microwave oven cannot be used to create nankhatai. If your microwave oven includes a convection option, you can make them in the microwave oven using the convection setting (option). 
Pre-heat the microwave oven in convection mode for 10 minutes at 180 degrees Celsius. Then, in a preheated microwave oven on convection setting at 180 degrees Celsius, bake the nankhatai for 15-20 minutes, or until light golden.
Follow Food of Pakistan for the Best Blogs and Recipes related to Traditional and famous foods of Pakistan.