Moong Masoor Dal - Pakistani Well Known Veg Dish
Feb 02, 2022
Moong and Masoor Dal :
Dal is a common dish on the Indian subcontinent that can be had at any time of day. Dal can be prepared in a variety of ways, depending on the region from whence the recipe originated, the ingredients used, and what it is served with. For example, this kaali daal cooked with black gramme lentils, which enjoy with rice. Is masoor dal or moong dal good for skin? yes, it's good for the skin. This dal is popular in India and Pakistan, and it can be served with rice or roti/chapati. (Sabut Masoor Dal Recipe)
What is moong masoor dal?
Moong masoor dal is a famous vegan lentil dish recipe from India and Pakistan made with red and yellow lentils. It's a great option for a hearty and quick meal because it's ready in less than 30 minutes.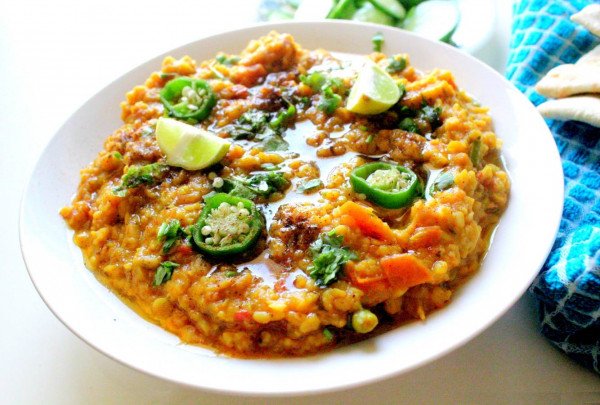 How to make Moong Masoor Dal?
There are two types of lentils needed to produce this dal recipe. Masoor dal, commonly known as red/orange lentils, is made up of split and skinned red lentils. The other is split and skinned moong dal, commonly known as yellow lentils or mung beans. Both varieties of lentils should be readily available at any large supermarket, as well as Indian and Pakistani markets.
In a bowl, measure out the two types of dal and clean them thoroughly, removing any stones or debris before washing the lentils. Masoor dal and moong dal don't need to be soaked because they cook quickly, but I like to soak them for a few minutes while I prepare the rest of the ingredients. In a pan, heat the oil and add the ginger garlic paste and turmeric. Cook the two kinds of lentils together until they are tender. 
To mash up the dal and achieve a smooth and chunky texture, whisk rapidly, or use a wooden spoon or an immersion blender. If necessary, add more water at this point; otherwise, cook for a few minutes on low heat until soft and tender.
In the meantime, prepare the tempering separately. In a pan, heat the oil, then add the onions, garlic cloves, red chilies, and cumin seeds one by one. Mix the tempering ingredients into the dal thoroughly. (Daal Mash Recipe)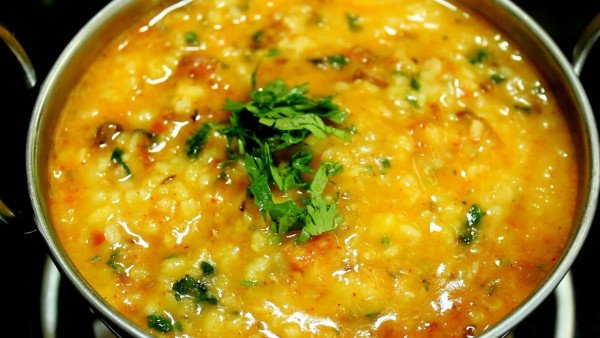 Moong Masoor Dal Recipe :
Prep Time:

5 mins

Cook Time:25 mins

Total Time:

30 mins

Servings:

4

people
Ingredients For Moong Masoor Dal :
For the dal:
1/2 cup masoor dal (red lentils).
1/2 cup moong dal (yellow lentils).
1 tablespoon of olive oil.
1 teaspoon paste of garlic.
1 teaspoon grated ginger.
a quarter teaspoon of turmeric powder.
Season with salt to taste.
For tempering:
2 tablespoons olive oil.
1/2 chopped tiny onions (optional).
4 chopped garlic cloves.
2 red chilies, whole (dried).
1 tblsp cumin powder.
garnish with coriander leaves.
Instructions to make Moong Masoor Dal :
For the dal:
Red lentils (masoor dal) and yellow lentils (moong dal) should be measured and washed. Because they cook rapidly, they don't need to be soaked, but I generally soak them for a few minutes while I gather the rest of the ingredients.
In a big pot, heat 1 tablespoon of oil.
Combine the onion, garlic paste, ginger paste, and turmeric powder in a mixing bowl. After a minute, add the lentils and season with salt. Bring water to a boil, stirring frequently.
Once the water has to a boil, reduce the heat to low and cook for 15 minutes, or until the lentils are tender. This will take 2 minutes if you use a pressure cooker. At this step, I vigorously mix the lentils using a whisk or a wooden spoon. This mashes together the lentils into a thick chunky stew. An immersion blender can also be used. If you prefer a thicker gravy, add extra water or just cook it for a few minutes.
For the tempering:
In a small frying pan or small wok, heat oil for tempering a few minutes before the lentils are done. When the oil is hot, add the onions and cook until they are light golden. After that, add the garlic cloves and cook for a minute, or until golden brown. After that, add the whole red chilies and cumin seeds.
Cook for 30 seconds to 1 minute, or until the cumin and red chilies are fragrant and have changed colour.
Pour the tempering mixture over the lentils (including the oi) and well combine. Rice, roti, chapati, or naan are all good accompaniments.
Notes :
The amount of water used in a daal dish is a matter of taste. I make adjustments based on how I intend to eat the dal. If I'm going to have it with roti, I'll use less water and make it thicker and more stew-like. If I'm eating it with rice, I'll add a little more water to make it more liquid and better coat the rice.
Follow Food of Pakistan for the Best Blogs and Recipes related to Traditional and famous foods of Pakistan.