List of some Pakistani snacks for tea?
Feb 23, 2021
Pakistani snacks for tea
Pakistan, a country in Asia has a rich culture and amazing culinary history. The Muslim Mughal emperors revolutionized the way people cook in the subcontinent (which now includes Pakistan and India). Mouthwatering foods such as kebab, chicken/lamb tikka, whose roots are based on the cooking method of these emperors, whose recipes are passed down from generation to generation. Iranian cuisine also has a profound influence on the eating style of the people of that region. Pakistani teatime or iftar snacks are quick cooked, tasty and often fried foods in Pakistan. Some recipes for tea time are sweet dishes or cakes that are usually sweet. Tea time is one name of a meal at the time of the evening. It is associated with the working class and is generally consumed between 17:00 and 19:00 in Pakistan. Some snacks are eaten in the evening with tea or sometimes as a side meal.

Pakistanis are very fond of chai (tea). Love for chai runs in the veins of all Pakistanis. And when you drink your chai, there are times when you want to pair it with things like cookies or samosa, cake or naan. There are many different types of tea snacks which can be eaten with tea. Some are easy snacks to make and some are a bit time taking. Because tea is the part of almost every Pakistani's daily life routine, so in every area of Pakistan there are different types of things to eat with tea. So here are few of the tea snacks.
Samosa:
Samosa is a fried or baked pastry with a delicious filling, such as flavoured potatoes, carrots, onions, cheese, poultry and other meat or veggies. It can take a number of kinds, including triangle, cone, or quarter shapes, depending on the area. Samosa is also one of the eating tea snacks in Pakistan. Some of the time it can be eaten with tea but also when guests come it can be served to them.
Namak Para:
Namak Para, dough strips (made from refined flour, oil and water) finely seasoned with ajwain (carom seeds) and cumin (jeera) in pure ghee (plain butter) or other oil. It takes about 10 minutes to prepare and 20 minutes to cook. Namak Para's appearance, taste and texture can be compared to samosa pastry. Its small in the size and have a delicious taste after cooking in oil. People in Pakistan eat it with tea because it tastes good with tea. Especially tea time of evening.
Biscuits
Cookies or biscuits are almost everyone's favourite snack to eat whether it is a biscuit from a brand or bakery biscuit or homemade biscuits. Almost everyone not in Pakistan but even all around the globe biscuits is almost everyone's favourite snack to eat. In Pakistan, people love having tea and biscuits.
Pakora: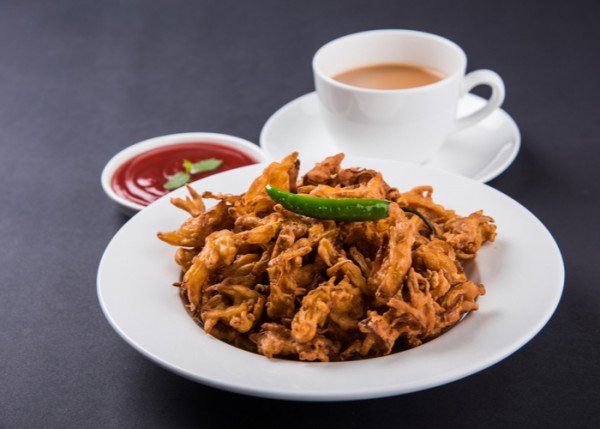 One of the favourite and popular snacks which Pakistani people love is Pakoras. Most Pakistani craves for this snack when it is raining. You can find pakoras easily at a roadside stall or a shop. It is made by adding and mixing different things and is fried in oil.

Brownies: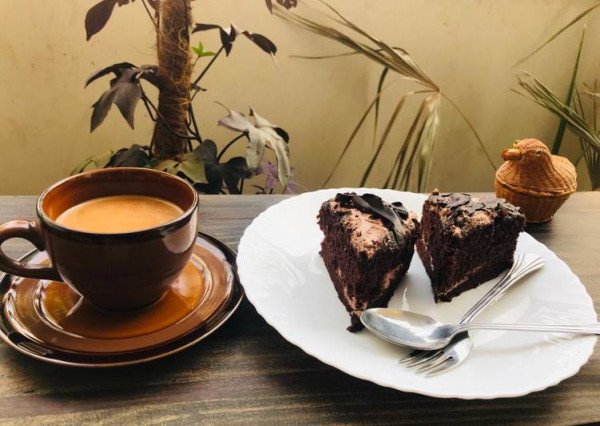 A chocolate brownie, or simply a brownie, is a square or rectangular chocolate dessert. Brownies come in a number of ways and can be soft or cakey, depending on their composition. They may contain almonds, frost, peanut butter, chocolate chips, or other ingredients. Having the best combo with tea and Coffee.
Gajar ka Halwa:
Gajar ka halwa, a carrot-based sweet dessert pudding from the Indian subcontinent. It is cooked by placing grated carrots in a pot containing a specific amount of milk, water and sugar and then cooking while stirring regularly. It is often served with a garnish of almonds and pistachios. The nuts and other items used are first fried in ghee, a type of clarified butter from the Indian subcontinent. It is mostly served with tea on Occasions.

Follow Food of Pakistan for the Best Blogs and Recipes related to Traditional and famous foods of Pakistan.