Variations in Balochi Chicken Sajji
Mar 04, 2021
Traditional sajji :
Sajji is a dish from the province of Balochistan in Pakistan. Traditional sajji and organic sajji is made of the whole lamb but, on a limited basis, are often made of chicken because of its smaller size, in slices (fat and meat intact), marinated only in salt. It is a special and native Balochi way of cooking lamb, now adopted in regions of Pakistan by changing lamb with chicken. Sajji is known to have been completed while is at the 'rare' level. It is eaten with a simple "roti" or "naan" bread, which is baked in an oven wrapped around a stone "tandoor".
Pakistani Cuisine :
Besides being of Pakistani origin, little more is known about how the dish came into being. It is believed to have been an important part of the festival of Eid. Over the years, the dish has been recognised as one of the most important recipes of Pakistani cuisine and is loved by people all over the world.


Balochi Sajji :
The Sajji Recipe method is divided into three parts: marinating, preparation and cooking. In all, the preparing time is around 3 to 3 1/2 hours and the cooking method is generally roast. The Chicken is firstly marinated and then prepared for roasting. When the meat is cooked, it's ready to be eaten. It is worth noting that the meat for the dish is considered to be fit for consumption when it is 'rare.'
Baloch delicacy is now a favourite among meat lovers across the country and outside of Balochistan, adaptations have been applied to the local palate in the original recipe. The use of Chicken has become more common in other cities of Pakistan, The chickens are within wooden rods and are roasted slowly in the heat of a glistening fire. Urban people love to use Chat masala(spice), lemon juice, Raita(yoghurt) and salad with it. and serves with rice instead of bread.


Chicken Sajji :
In Rawalpindi, chickens placed around coal fires can be found outside several restaurants in Saddar, Sadiqabad, the Commercial Market, even Bahria Town. You can find the best Sajji Restaurants (only devoted to Sajji) in Saddar as well as in Sadiqabad. You can even ask them to offer Sajji according to your favourite spices, but as a whole, you will always like the simple spices they use. Consumers squeeze the lemon juice onto the chicken that is crisp on the outside and highly tender and juicy on the inside. The open fire gives the Sajji its best taste. Some of the restaurants serve Sajji with rice, which is also served separately. Consumers at other sites pick it up with a Nan and dip it in the mint  Chutney.
It must be roasted along with coals. The flavour of Sajji is distinct from that of roasted chicken or chargha, as the meat of Sajji is slow-cooked and stays soft, whereas the roasted chicken and Chargha meat are crisp. We've been eating Sajji all year long. It's a pleasure to sit in the bonfire in the winter and see the meat roasted, but in the summer, we generally eat indoors.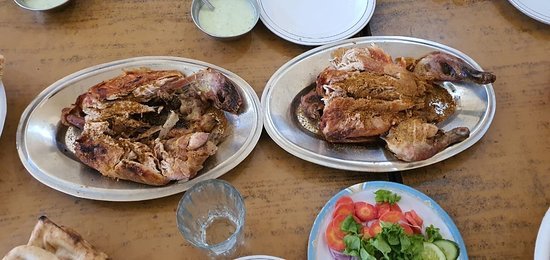 Food of Pakistan :
Food of Pakistan is a forum where you can explore recipes and blogs related to Pakistan's popular and traditional food. Get the best tips on fast food, updates and news. New, tasty and mostly balanced Pakistani recipes made for everyday life. Helping you celebrate the love of food in a totally non-intimidating way. You can also submit your Recipes here!


Follow Food of Pakistan for the Best Blogs and Recipes related to Traditional and famous foods of Pakistan.