Murgh Malai Tikka
May 18, 2022
What is malai tikka?
Murgh Malai Tikkas will bring some much-needed brightness into your home! Murgh Malai Tikkas are chicken bites cooked in a creamy marinade of yoghurt, cheese, ginger, garlic, and chilli. The creamy yoghurt provides a nice contrast to the heat of the ground chilli paste and the warmth of the garam masala powder. (Chicken Tikka Masala)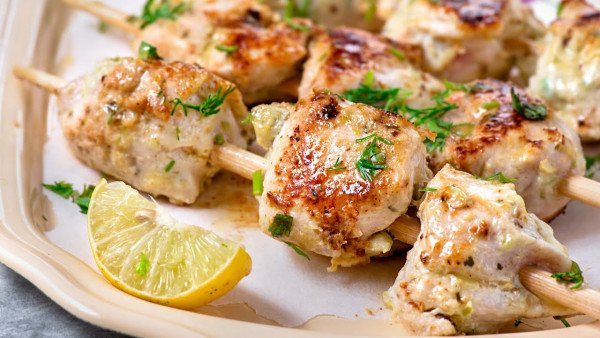 Chicken Malai Tikka :
This is a simple recipe that is perfect for a weeknight meal. I use boneless chicken thighs since they cook quickly and keep their moisture. It's excellent served with a green chutney and some bread and finished with a touch of garam spice and chaat masala.
Malai Tikka :
A recipe for soft, juicy kababs on skewers made with chicken malai tikka that will melt in your mouth. Tender pieces of boneless chicken are marinated in a unique blend of Pyogurt, cream, cheese, papaya, and spices are grilled or baked together. Ideal for an outside luncheon or barbeque.
Chicken Malai Tikka Recipe :
This recipe for chicken malai tikka is ideal for an outside BBQ or lunchtime.
| | |
| --- | --- |
| Prep Time: 15 mins | Cook Time: 20 mins |
| Total Time: 35 mins | Servings: 25 Kababs   |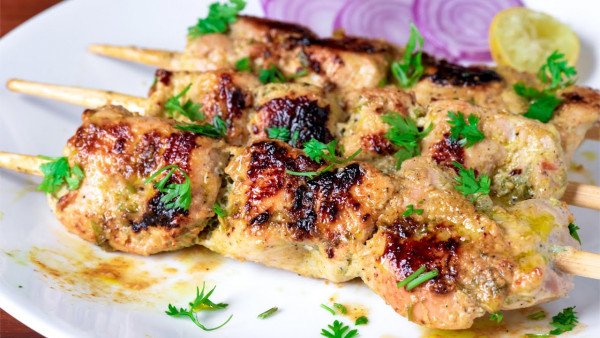 Ingredients For Malai Tikka :
3 boneless chicken thighs or breasts, sliced into bite-size portions.
6 skewers (wooden or metal).
a sprig of cilantro for decoration.
slices of lemon.
Marinade Ingredients :
1 tablespoon garlic and ginger paste.
2 tablespoon papaya paste (raw).
2 tbsp strong cheddar cheese, grated.
2 tablespoons plain Greek yoghurt.
2 tsp. thick cream.
1/2 teaspoon powdered white pepper.
2 minced green chilies.
2 tablespoons vegetable oil.
2 tblsp cornstarch.
to taste with salt.
Green Chutney Ingredients :
1 cilantro leaf bunch.
1 bundle of mint leaves.
1 sliced small tomato.
3 peeled and sliced garlic cloves.
2 green chilli peppers.
to taste with salt.
How to make Murgh Malai Tikka?
Follow these simple steps to make delecious murgh malai tikka at home.
Instructions For Malai Tikka :
Chicken tikka method:
Mix the marinade ingredients thoroughly in a deep glass bowl with a mixing spoon before adding the chicken pieces. Cover with cling foil and chill for a couple of hours, or longer if using breast meat (preferably upto 24 hours).
Shake off any excess marinade before threading the chicken pieces onto skewers.
Cook on a hot grill, basting frequently with oil or butter. Repeat on the other side. Remove when burned somewhat (20-25 minutes).
If using the oven, arrange the chicken skewers on an aluminium foil-lined baking tray and bake for 1 hour at 400 degrees F. Turn the skewers over once after half an hour. Brush with oil or butter when finished.
Serve hot with the cilantro-mint chutney and lemon wedges, garnished with chopped cilantro.
Green Chutney Method :
Put all of the chutney ingredients in a blender and puree until smooth.
NOTES :
If using chicken breasts, lengthen the marination duration to 24 hours. Because this meat tends to become tough when cooked at high temperatures, you should marinate it for a longer period of time.
In Pakistani grocery stores, ginger-garlic and papaya pastes are readily accessible. To make your own, simply combine the needed amounts of ginger and garlic with a little water, then repeat with the papaya. The papaya does not need to be peeled.
Before using the wooden skewers, soak them in water for a couple of hours.
The marination time has not been stated in the recipe card because it fluctuates.
NUTRITION :
175.9 kilocalories 2.4 g carbohydrates 12.4 g protein Fat: 11.7g 3.5 g saturated fat 6.1g polyunsaturated fat 46 mg cholesterol 624 mg sodium Fiber: 0.2g Sugar: 1.4g.
Follow Food of Pakistan for the Best Blogs and Recipes related to Traditional and famous foods of Pakistan.