Falooda One Of The Most Famous Dessert Of Pakistan
Mar 09, 2021
Rabri Falooda :
Falooda, or rabri falooda, is the Pakistani variant of a cold noodle dessert. It has roots in the falooda of the Persian dish, variants of which are found in West, Central, and South Asia. Traditionally, rose syrup, vermicelli, and sweet basil seeds, often served with ice cream, are combined with milk. The vermicelli used to make falooda are made from wheat, arrowroot, cornstarch, or sogo. (Lassi Pakistani Drink Recipe)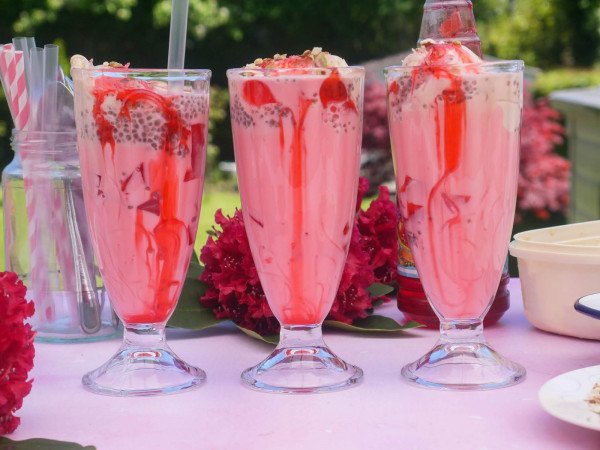 The falooda is a dessert masquerading as a beverage. It's a delectable combination of silky vermicelli noodles, ice cream and/or crushed ice, and slithery black basil seeds (tukmaria), all steeped in a vibrant bath of rose and khus syrup, with nuts strewn on top. The whole is still greater than the sum of its parts when it comes to falooda. It engages the palate on several levels at once, and is the ideal antidote to a hot summer day. Sweet, refreshing, smooth, cool, crunchy, velvety.
Kulfi Falooda :

Kulfi falooda recipe with images – a rich and delectable summer dessert made with kulfi and topped with falooda, sabja seeds, rose syrup, and dried fruits. It is a traditional summer dessert that is enjoyed by both children and adults.



Kulfi falooda is a delectable dessert that is both refreshing and filling. I've also included step-by-step instructions for making Mango Falooda and Kesar Falooda. The distinction between kulfi falooda and standard falooda is that regular falooda is a dessert drink made with or without ice cream, while kulfi falooda is a dessert drink made with or without ice cream. Kulfi falooda is a frozen dessert with falooda sev, rose syrup, and dried fruits on top.
How To Make Falooda At Home? 
Just follow these instructions to make Falooda at home.
Falooda Recipe :
Ingredients :
1) Rose syrup. 2) Sabja seeds. 3) Falooda vermicelli. 4) Milk.
Basic Falooda Recipe Instructions :

In a dish, combine 1/2 tablespoon sabja seeds (sweet basil seeds). If there are any husks or stones, you should remove them. 
Sweet basil seeds can be substituted with chia seeds. 
Add water and stir. 
Soak the sabja seeds for 20 to 30 minutes in water. 
After 30 minutes, the sabja seeds will be fully soaked and gelatinous. 
Drain the excess water from the sabja seeds with a fine strainer. Cover and set aside the soaked sabja seeds. 
In the meantime, start making the faluda sev according to the package directions. Some recipes only call for soaking the falooda sev in hot water. We  had to cook them in boiling water, similar to how We would cook noodles. So we put 1.5 cups of water on the stove and brought it to a boil. 
Then 5 tablespoons sev (roughly 13 cup) was applied. If the faluda sev are particularly long, simply chop them before cooking.
Boil them in water over medium heat until they soften. 
They must be thoroughly baked. 
After they've been thoroughly cooked, strain them and drain the water. Put them aside after rinsing them under running water. 
This gets rid of the excess starch. Allow the faluda sev to cool fully at room temperature before serving. Second, pour the rose syrup into each of the four tall serving containers. Depending on your preference and the size of the bottle, add 1.5 to 2 tablespoons rose syrup. 
Add 2 tablespoons of the soaked sabja seeds after that. 
Add 2 to 3 tablespoons of falooda vermicelli to the mixture. 
In a slow stream, pour in around 1 cup chilled milk, making sure the milk does not mix with the rose syrup or sabja seeds. The layers must be clear, which is what gives the falooda its visual appeal.
Follow Food of Pakistan for the Best Blogs and Recipes related to Traditional and famous foods of Pakistan