Best Restaurants In Karachi
Mar 16, 2021
Pakistan is renowned all over the world for its mouthwatering cuisine. Pakistan has hundreds of thousands of cuisines, ranging from parathas to gravies to fried goodness, all of which will make your stomach happy.
Every city in Pakistan has its own specialties; Lahore has a multitude of incredible places to visit, Islamabad has one of the most beautiful cities in the world, and Karachi is no exception. There are many interesting places to visit in Karachi. There are many things to do in Karachi if you want to unwind and relax with your friends and family. In the summer, you can visit historical places, the stunning deep blue sea, natural attractions, and water parks to cool off. It also has top gyms, shopping centres with almost all brands, top cinemas, best farmhouses, top investment areas, and, of course, a diverse cuisine. Sindh's provisional capital has a range of restaurants that serve piping hot food to its patrons.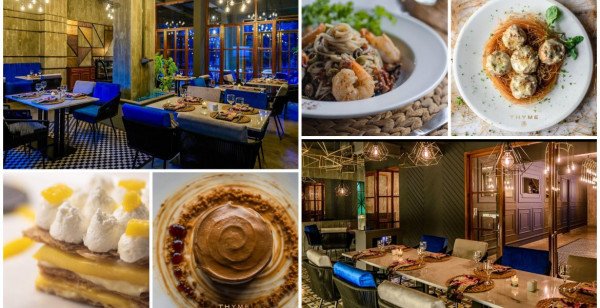 BarBQ Tonight :
Contact:

111-227-111
Address:

5/1, Boating Basin, Clifton, Block-5, Karachi, Pakistan.
The first restaurant on our list is BarBQ Tonight, which is known for its sizzling BBQ and extensive menu of Indian dishes. From the 10th of November in 1988, BarB.Q. Tonight began serving authentic Pakistani dishes, which have since become signature Bar. B.Q. dishes. Currently, the restaurant has over 20 locations worldwide, including Dubai, Malaysia, Oman, and Saudi Arabia. Prawn karahi, a special BBQ platter, and mutton chops are some of their most popular dishes. Lunch and dinner are also available at BarBQ Tonight. It offers a wide range of sweet and savoury dishes at a reasonable price.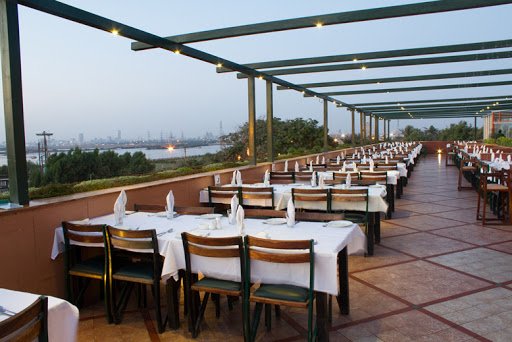 Cafe Aylanto :

Contact:

021-35309869
Address:

D 141, Block 4 Clifton, Karachi.
Cafe Aylanto is the place to go if you want to sample some delectable Mediterranean cuisine. The restaurants' sleek, minimalist interior speaks volumes about the consistency of their food and service. You will recall this culinary experience for a long time because of the high-quality cuisines served with delicacy and elegance. This is one of the best cafés in the region.
Here are some of the dishes that you must try:
The Chicken Avocado Sandwich is a fan favourite. 
The Aylanto Grilled Burger is a delicious grilled burger. 
Flame-grilled tenderloin with rocket leaves and garlic-infused olive oil, served with sautéed mushrooms and vegetable timbale. 
The Fiery Chili Sole is a grilled sole fillet with roasted garlic, red chilli, and vinaigret. 
A grilled sole fillet marinated in roasted garlic, red chilli, and vinaigrette. The olive and garlic crusted pan-seared Norwegian pink salmon was eaten with cauliflower mousse and asparagus, pomelo vinegar, and ginger kabayaki sauce.


Xander's Cafe :
Contact:

021-35250408
Address:

48-C, Lane 13, Bukhari Commercial DHA Phase 6, Karachi.

One of the most famous cafes in town is Xander's Cafe. The gourmet dining experience would undoubtedly brighten your day. They strive to provide light meals made with plain, fresh ingredients. Xander's has it all, from sandwiches to pasta plates to cheeseburgers. 
The cafe's minimalistic ambiance adds a touch of modernity and calmness to the overall atmosphere. 
If you're a vegan in Karachi looking for healthier choices, look no further than Xander's Cafe. They offer a wide range of European and contemporary vegan dishes to satisfy your hunger.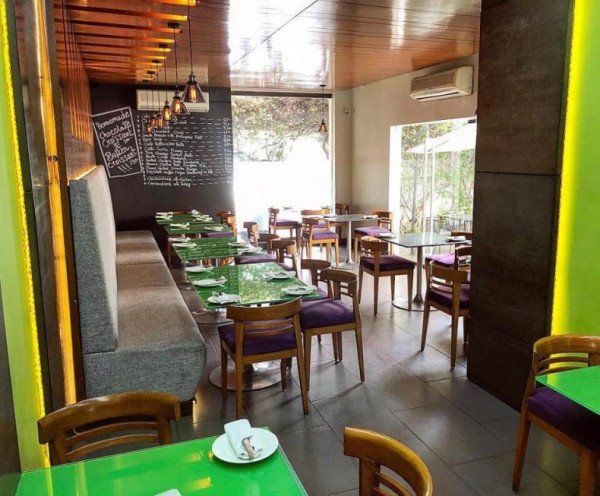 Kolachi Restaurant :
Contact:

021-3-606-6945
Address:

  Beach Avenue, Do Darya, Devils Point, Phase 8, D.H.A, Karachi.
Kolachi, the next restaurant on our list, is a must-visit. It is one of Karachi's most famous and sought-after dining establishments. The restaurant, which is located by the shore, will provide you with an unforgettable dining experience. All about this place is excellent, from the ambiance to the service to the food.BBQ platter, fish tikka, and Kolachi karahi are some of the most common dishes. This restaurant in Karachi is a must-visit for foodies who want to enjoy delicious food in a relaxing setting.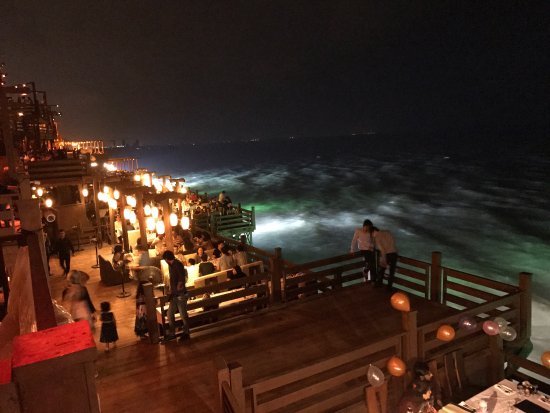 Fuschia :
Phone:

021-35363944
Address:

Ground Floor, Plot No 23-E, 2nd Commercial Lane, Zamzama, DHA. Phase 5, Karachi.
Fuschia, located near Karachi's shopping malls, serves up modern Thai cuisine to the masses.
Dishes are served "tapas-style," allowing you to sample a variety of dishes, while unlimited white rice is delivered to your table in a traditional Thai basket.The crimson-colored interior and minimalist style give the space a feeling of luxury and regalness.Steamed seabass with chilli and ginger crust with lemon balm infused dashi stock with lemongrass, steamed prawns with ginger and garlic & lemon chilli vinaigrette, creamy red thick curry of chicken with lime leaf and red chili, and toffee in desserts are just a few of Fuchsia's exotic and flavorful Thai dishes. Crispy banana fritters with a glaze and vanilla sauce, plus Thai tea ice cream.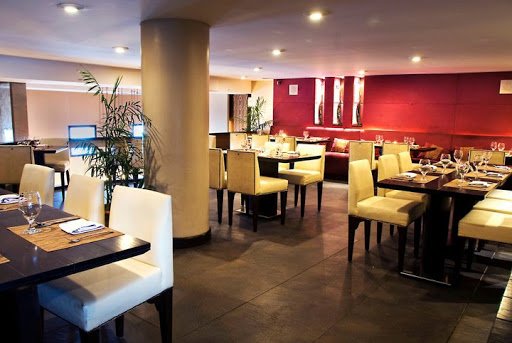 The Deli :
Phone:

021-3-583-8954
Address:

The Deli, Bungalow C-29/1, Block 4 KDA Scheme 5, Clifton, Karachi, Pakistan.
The Deli is regarded as one of Karachi's best restaurants. The Deli, which specialises in high-end gourmet cuisine, serves a variety of delectable dishes, including exclusive sandwiches, fresh salads, mouthwatering main courses, and decadent desserts made with only the finest ingredients.
Exotic main courses are prepared with the highest quality fresh and flavorful ingredients, while desserts are made with imported chocolate and cheeses of the highest quality. The Deli's cuisine is mostly Mediterranean, but there are some authentic Thai and European dishes on the menu as well.
The Roast Beef Wasabi Sandwich, Stir Fry Khao Suey, Italian Style Pasta, and Cappuccino Brownie with Ice Cream are all common dishes. The menu also includes dishes like shrimp cocktail and chicken sate, which are both rare and traditional but often with a modern twist.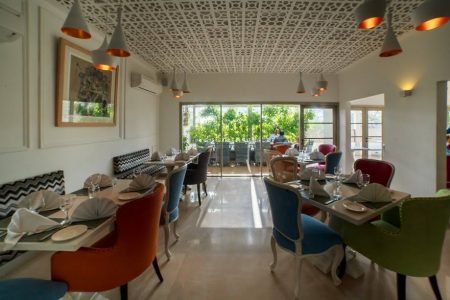 Al-Bustan Restaurant :
Phone:

021-3-563-3333
Address:

Movenpick Hotel, Club Road, Karachi, Pakistan.
Al-Bustan is an all-day dining restaurant in Karachi that serves a delicious breakfast, lunch, dinner, hi-tea, and Sunday brunch buffet. Al Bustan, located in the Mövenpick Hotel, is renowned for its high-end contemporary cuisine and lovely ambiance. 
The restaurant offers a wide variety of lunch and dinner buffets in addition to the standard a la carte menu. 
You must visit Al-Bustan for delicious cuisine if you want to try out exclusive local and foreign cuisines. Salmon steak, scallopini funghi, grilled lamb chops, fluffy shrimp bisque, bistro shrimp pasta, spaghetti brava, rib-eye steak, and chicken Francaise are some of the restaurant's most common dishes.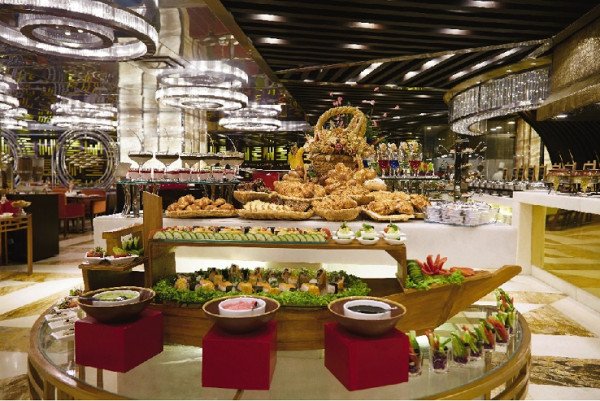 Follow Food of Pakistan for the Best Blogs and Recipes related to Traditional and famous foods of Pakistan.