Bakery Style Chicken Patties
Feb 25, 2022
Chicken Patties :
This dish has become a household favourite, and normally people make large amounts and freeze them. Fresh and hot from the oven, they're ideal for school and work lunches, as well as a quick after-school snack!
Except for South Asians, the term "Pakistani Bakery Style Chicken Patties" may be misleading. This is a chicken or beef-filled Vol-au-vent that is often manufactured and sold in bakeries across Pakistan. According to wikipedia.org, vol-au-vent means "windblown" in French. Because the puff pastry rises and creates an enormous empty container, this makes perfect sense. Then it's stuffed with various meats and vegetables. ( Keema Samosa Recipe )
Pakistani Bakery Style Chicken Patties :
In the past, the puff pastry shell was also known as a "patty case." In the United States, a chicken patty is a flattened, breaded, and fried chicken, however, in Pakistan, the term refers to a vol-au-vent.
In Pakistan, a round chicken patty is traditional, but a rectangle beef burger is more common. Make it triangular because it's easier and saves dough leftovers. ( Chocolate Chip Cookie Recipe )
What to make with chicken patties?
Delicious bakery chicken patties. Spicy chicken filling baked within puff pastry, just like you remember from your childhood!
Chicken Patty Recipe :
| | |
| --- | --- |
| Prep Time: 40 mins | Cook Time: 20 mins |
| Total Time: 1 hr | Serving: 18 Patties |
Ingredients for Chicken Patty :
1/2 pound chicken breast.
1 quart of water.
1 tsp ginger powder.
1 teaspoon garlic, minced.
1/2 teaspoon black pepper.
2 tablespoons white vinegar.
2 tablespoons soy sauce.
2 tablespoons butter.
1/2 onion, chopped.
1 green chilli, chopped.
2 tablespoons flour.
1 teaspoon red pepper flakes, crushed.
2 puff pastry sheets.
1 yolk of an egg.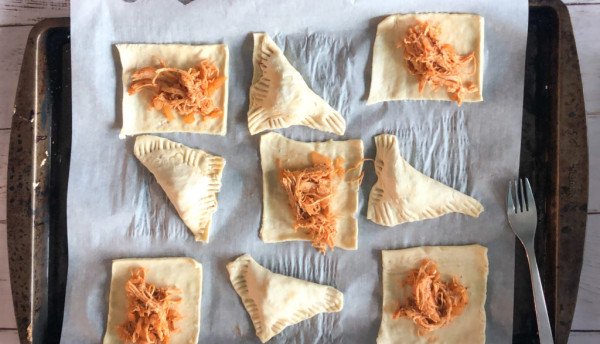 How to make Chicken Patties?
Follow these simple steps to make bakery-style Chicken Patties at home.
Instructions for Chicken Patty :
Cook the chicken breast in a pot with water, ginger, garlic, pepper, vinegar, and soy sauce until it is fully cooked, saving about 1/4 cup of the liquid.
Remove and shred the cooked chicken from the pan.
In a small amount of butter, sauté the onion until it becomes translucent.
Saute for another 30 seconds after adding the green chilies.
To form a smooth paste, add the flour to the foregoing mixture and stir quickly.
Stir in the leftover 1/4 cup of water until a thick sauce forms.
Mix in the red pepper flakes and the shredded chicken thoroughly.
Allow for cooling until the mixture reaches room temperature.
Preheat the oven to 400 degrees F.
Preheat the oven to 350 degrees Fahrenheit. Line a two baking pan with parchment paper.
Puff pastry should be taken out of the fridge and cut into squares. Using a tablespoon of the filling, fill each square.
To keep the square from opening during the baking process, fold it into a triangle and seal the edges with the tines of a fork.
Brush each patty with an egg yolk mixture.
Bake for 15-20 minutes, or until the pastry has risen and turned golden brown on top.
Nutrition :
1 patty per person calorie count: 182 kcal 13 g carbohydrate 5 g protein 12 g fat 4g Saturated Fat 1 gramme of trans fat 22 milligrammes of cholesterol Sodium (mg): 132 68 mg potassium 1 gramme of fibre 1 gramme of sugar 58 IU Vitamin A 1 milligramme of vitamin C 6 mg calcium 1 milligramme of iron.
Follow Food of Pakistan for the Best Blogs and Recipes related to Traditional and famous foods of Pakistan.