Aloo Paratha Pakistani Breakfast
Jul 29, 2021
Aloo paratha is a savory and spiced potato-packed flatbread made with unleavened whole wheat from Punjab, Pakistan.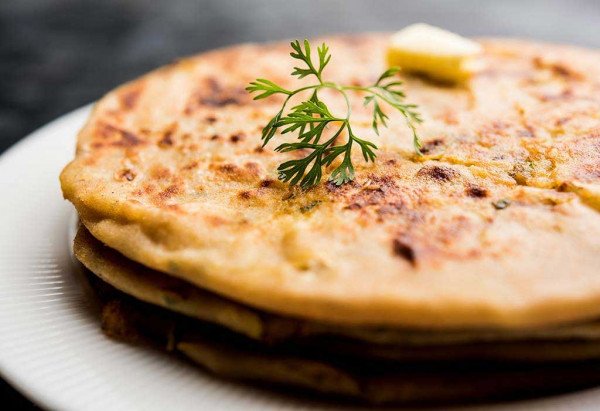 What is Aloo Paratha?

In our house, aloo paratha is one of the most frequently served morning items. It is a hit with everyone. Crisp wheat flatbreads packed with spicy, somewhat sour mashed potatoes and served with a tart sour mango pickle. Is there anything about aloo paratha that you don't like? 
The best part about cooking parathas is that they may be served for Pakistani breakfasts or packed in a kid's lunch box. The aloo paratha tastes wonderful and stays soft even after several hours.
Punjabi Aloo Paratha :

Parathas are created with a lot of love and devotion in Punjabi households. Parathas are typically roasted in a large amount of ghee and served with dollops of white butter, or Makhan in Punjabi, on top. However, you can use less ghee or even oil to broil the parathas.

The Urdu word for potato is aloo, and the word for unleavened stuffed flatbread is paratha. So aloo paratha literally translates to "potato-stuffed flatbreads" or "potato-stuffed flatbreads.
Many people like aloo ke parathe, despite the fact that there are many different types of stuffed paratha. Gobi paratha and aloo paratha.

You'll need two major ingredients to prepare aloo paratha

Whole wheat flour dough — whole wheat flour (atta), salt, oil, and water are used to make a basic dough. Making dough is simple, and you can make it by hand or with a stand mixer.

Mashed potato stuffing is made by boiling, peeling, and mashing potatoes. Herbs, spices, and salt are added to the mashed potatoes. After that, the seasoned mashed potatoes are filled into a rolled dough and roasted or fried.


How to make Aloo Paratha?

The potato stuffing must be prepared before you begin creating these delectable stuffed parathas. After boiling or steaming the potatoes, they are mashed. Spices and herbs are incorporated with the mashed potatoes. So let's get started with the potatoes.


| | | |
| --- | --- | --- |
| Prep Time: 15 mins | Cook Time: 15 mins | Total Time: 30 mins |
| Cuisine: Pakistan, Punjab | Course: Breakfast | Serving: 6  |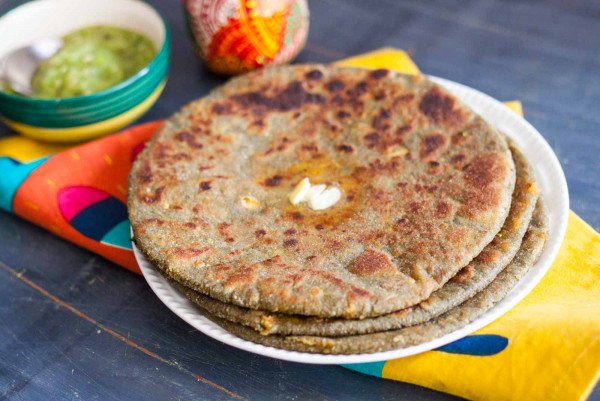 Aloo Paratha Recipe :
Ingredients :

For Stuffing Potatoes. 
cooked and mashed 1.8 to 2.4 medium potatoes. 
0.6 to 1.2 green chilies, coarsely chopped. 
Optional: 0.15–0.3 teaspoon kashmiri red chili powder or deghi mirch. 
0.15–0.3 teaspoon garam masala powder (Punjabi Garam Masala Powder). 
amchur (0.3-0.6 teaspoon) (dry mango powder). 
1.2 to 1.8 tablespoons coriander leaves, finely chopped – salt to taste. 
For Paratha Dough, use oil or ghee as needed for roasting parathas. 
1.2 cup whole wheat flour 0.3 teaspoon salt (more salt as needed). 
For serving, 0.6 tablespoon oil or ghee (clarified butter) water as needed for kneading. 
To serve with the aloo paratha, drizzle with white butter or yogurt and top with mango or lemon pickle, if desired.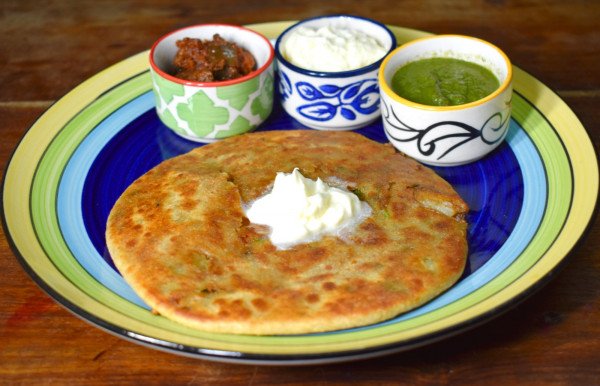 Instructions :

Making Stuffing with Potatoes. 
To begin, boil and peel the potatoes. In a pressure cooker, steamer, or electric cooker, you can boil or steam the potatoes. 
Chop the potatoes and then mash them with a potato masher. 
The potatoes should be thoroughly mashed. It should be free of lumps and small bits. 
Add the green chilies, garam masala powder, red chili powder, dry mango powder, and salt at this point. 
Mix the spice powders and green chilies thoroughly into the mashed potatoes. Taste and adjust the seasonings by adding additional salt, red chili powder, or dry mango powder to your liking.

Dough Kneading :
Put whole wheat flour in a separate basin or pan (atta). 
In the center, dig a well. Combine the salt, oil, and about half of the water in a mixing bowl. 
Combine the ingredients and knead into a nice, smooth dough. 
Cover the dough and set it aside for 20 to 30 minutes.
The Method Of Stuffing And Rolling :
Roll the dough into two small balls. Dust with whole wheat flour after flattening them. 
Roll them out into 4 to 5 inch diameter circles using a rolling pin. Make both circles the same size as the first. 
Place the potato stuffing in the center of one of the rolled dough circles, leaving about 1 inch open on both sides. 
Place the second circle on top of the first one in a gentle manner. 
With your fingertips, gently press and seal the edges. 
Dust the stuffed paratha with flour and roll it into a 7- to 8-inch-wide circular, similar to a roti or chapati.
Method 2: Pinch a medium dough ball.
It should be rolled and flattened. Dust it with flour and roll it out into a 5 to 5.5-inch diameter circle. 
Place the potato filling in the center of the pan, leaving about 2 to 2.5 inches between the sides. 
Take the edge and begin pleating, bringing the pleats together in the center. 
The pleats should be joined together. The pleats must be well-joined; otherwise, gaps would appear while rolling and the filling will leak out. 
If you see the filling, simply cover the space with a small piece of dough. Roll the little piece of dough to smooth it out. 
From the middle, press the pleats. 
Sprinkle some flour on the counter and lay out this aloo paratha to the size of a chapati or roti.


Roasting :
Place the rolled paratha on a hot tava (tawa, pan, or griddle). 
It's important that the tawa or skillet is hot, not cold. Harden parathas by cooking them on a low burner. Crispy as well as soft parathas are great. 
Flip the alu paratha with a spatula or tongs when the base is partially cooked. 
Apply a thin layer of ghee to the partially cooked portion. 
Flip the pan again, and this side will require more cooking time than the prior side. Brown specks will appear on the paratha. 
Also, smear some ghee on this side. A properly prepared and cooked aloo ka paratha puffs up. 
Flip the aloo paratha once or twice more till both sides are cooked through. Crisp brown specks should appear on the paratha. 
You can also use a spatula or a spoon to press the paratha edges to ensure that they are properly fried. Keep in mind that the paratha edges aren't always cooked evenly, so keep that in mind. 
Assemble all of the aloo ke parathe in a roti basket or casserole in this manner. 
The aloo paratha can also be served straight from the tawa (skillet) onto the serving plate. Serve with additional butter on the side, as well as mango, lemon, or garlic pickles, or yogurt. 
You can serve them with a cup of hot tea or lassi if you're serving them as an evening snack.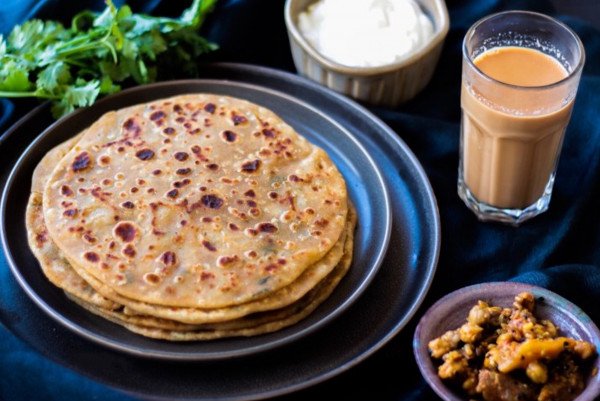 Notes :

When kneading the dough, add oil or ghee to make the parathas soft. 
The aloo stuffing mixture can be customized to your preferences. Roasted cumin seeds powder (jeera powder), rock salt, carom seeds, mint leaves, and coriander powder can also be added. 
You can also add other boiled and mashed vegetables to the aloo stuffing, such as peas, carrots, and french beans, as well as grated cheese and paneer, to make a more nutritious mix veg paratha. 
Always finely chop the onions, chilies, and coriander leaves. Also, the aloo should be thoroughly mashed. It should be free of any lumps or small particles. This prevents the parathas from breaking while rolling. 
If you don't have amchur powder, anardana powder or lemon juice can be substituted. Taste and adjust the amount according to your preferences. However, don't make the stuffing too sour. So toss in some chunks, mix it up, and give it a go. 
Instead of ghee, roast the paratha using oil to make vegan aloo paratha. When making the dough, use oil as well.


Follow Food of Pakistan for the Best Blogs and Recipes related to Traditional and famous foods of Pakistan.