Student Biryani
Jan 08, 2021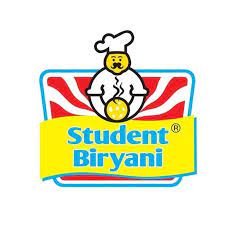 Student Biryani :
Cuisines: Biryani, Roast​.

Student Biryani originated in the town of Multan, and in the old quarters of Karachi, he has his birthplace. One of the famous eating places for students in Pakistan is the Student Biryani outlet. They serve delicious and best tasting Biryani all through Pakistan and also around the world. The student biryani menu offers authentic student biryani to all who wish to try it.
Students love eating it because student biryani has a wonderful and rich flavor, especially when it's prepared with the perfect ingredients. The student biryani is cooked in front of the customers in a small charcoal or gas grill. The meat is then roasted slowly, which gives it an exotic flavor. The student biryani can be found all over Multan and in various areas of Karachi. There are various student biryani outlets in different parts of Karachi like Daryaganj, Saddar, Chhota, Nazri, etc.
Chicken student biryani is prepared with delicious chicken pieces and is a great starter dish for morning or evening. Most chicken pieces used in chicken student biryani are made from thin cuts and they give a very good flavor. So, it doesn't matter which type of chicken you want to eat, you will get to have excellent biryani. Moreover, the chicken also adds more taste to the overall taste of the chicken.
Location:
Lahore:
+923214034108
481 Abu Bakar Rd, Sector B2 Block 2 Sector B 2 Township, Lahore, Punjab
Karachi:
+9221111111778
(021)111-111-778
Plot ZC-57, sector 1A, kathak road lines area, Karachi
Rawalpindi:
Ch. Jan Colony Chaklala Cantt., Rawalpindi, Punjab 46000​:
Follow Food of Pakistan for the Best Blogs and Recipes related to Traditional and famous foods of Pakistan.