Chana Dal Recipe - Food of Pakistan
Jun 30, 2021
Recipe Details:
Chana Dal :
Chana dal is strong in fiber, a decent source of protein, and a healthy choice for diabetics or those on a low-carb or diabetic-friendly diet. 
Bengal gram or split chickpeas are other names for chana dal. The flavor of these lentils is sweet and nutty. Black chickpeas are used to make chana dal (Kala chana). The outer husk is removed and they are separated. Besan or gram flour is made from these lentils that have been ground. 
This chana dal fry is a Punjabi-style meal made with tempered and flavored Bengal gram lentils or spilt chickpeas, onions, tomatoes, herbs, and spices. ( Laal Lobia Recipe )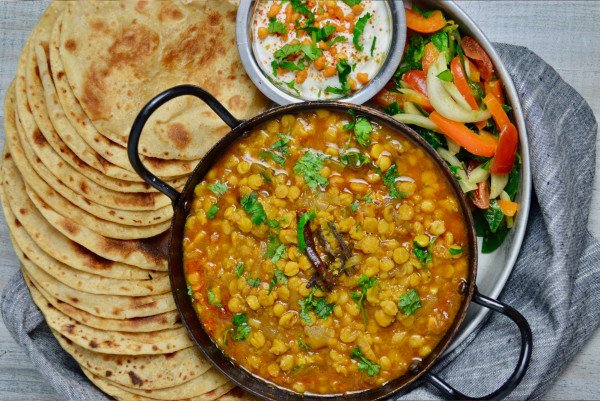 Chana Dal Recipe :
| | |
| --- | --- |
| Prep Time: 15 mins | Cook Time: 15 mins |
| Total Time: 30 mins | Serving: 4 |
Ingredients for Chana Dal :

200 grams chana dal (bengal gram or split chickpeas). 
2.5 to 3 cup water (or as needed). 
a quarter teaspoon of turmeric powder.
Additional Ingredients:
3 tablespoons ghee or oil (clarified butter). 
1 teaspoon seeds of cumin. 
2 tablespoons garlic, finely minced, or 4 to 5 medium garlic cloves. 
1/2 CUP ONIONS, FINELY CRUMBLED. 
2 medium-sized tomatoes or 1 cup finely chopped tomatoes. 
1-inch ginger or 1/2 to 1 teaspoon coarsely sliced ginger. 
1/2 teaspoon green chilies, diced, or serrano pepper, or 1 green chili. 
1/2 tsp red chili flakes. 
a quarter teaspoon of turmeric powder (ground turmeric). 
1/2 teaspoon powdered garam masala. 
1/2 teaspoon amchur powder (dry mango powder) or as needed. 
1 tblsp. asafoetida (thing). 
1 teaspoon powdered coriander (ground coriander). 
1 teaspoon crumbled kasoori methi (dry fenugreek leaves). 
salt as needed. 
1–2 teaspoons coriander leaves, chopped (cilantro). 
How to Cook Lentils?

Just follow these simple steps to make delicious dal chana at home.
Instructions :
Lentil Cooking.
Pick the chana dal and thoroughly rinse it under running water. 
Soak the dal for an hour in adequate water. 
Drain the lentils and combine them with the turmeric powder in a 3-litre pressure cooker. Stir in 2.5 to 3 cups of water well. 
Pressure cook the lentils for 10 to 11 minutes on high heat, or for 7 to 8 whistles or more, until softened and well cooked. 
Set aside the prepared chana dal.

Making Chana Dal Fry.
Heat the oil or ghee in a separate pan. 
First, add the cumin and cook for a few seconds, until it splitters. 
Then add the garlic and continue to cook until it turns light brown. 
Add the onions and cook until golden. 
Toss in the tomatoes, ginger, and green chile at this point. 
All of the dry spice powders – turmeric powder, red chili powder, garam masala powder, asafoetida, dry mango powder, and coriander powder – are combined and stirred in. 
Cook until the tomatoes are soft and the oil begins to separate from the mixture. 
Toss in the kasoori methi and whisk to combine. 
Pour the cooked chana dal, together with its stock, into the masala mixture that has been sautéed, or the other way around. season with salt and pepper. 
Stir and cook the dal for 6 to 8 minutes, or until it reaches a medium consistency. The consistency of the chana dal is neither thick nor thin.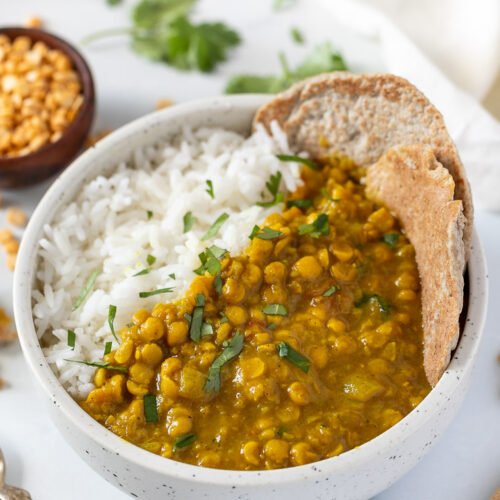 Serving :
Delicious Chana Dal is ready to serve with chopped coriander leaves as a garnish with some basmati rice, roti, or naan, serve the chana dal hot.
Notes :
Adjusting the consistency: If the dal becomes too thick, add some water after adding the sautéed masala tempering mixture and cook for a few minutes. 
If the dal becomes too thin, cook it for longer to achieve the desired consistency. 
To cook lentils in a pot or pan, follow these instructions: 
Soak the lentils for an hour before cooking. 
In a pot or skillet, combine 4 cups water and the drained lentils. 
Turmeric powder is added. Cook the lentils, covered, for 45 minutes to an hour, or until they are tender. If necessary, add extra water. 
If the mixture froths, heat it uncovered at first, then cover and continue to cook. The foaming is reduced by adding a few drops of oil. Note: If you want to make the chana dal gluten-free, leave out the asafoetida (hing).
Follow Food of Pakistan for the Best Blogs and Recipes related to Traditional and famous foods of Pakistan.