Boneless Chicken Biryani Recipe - Food of Pakistan
Aug 05, 2021
Recipe Details:
The Traditional Food of Pakistan :
A simple yet incredibly flavorful Biryani made with boneless chicken chunks rather than on-the-bone pieces, making it much easier to prepare and serve/eat. Always follow these guidelines, and your biryani will be perfected one day. "Keep in mind that every expert was once a beginner." So let's get started on the boneless chicken biryani recipe! ( Most of the famous and best biryani in Karachi )
Boneless Chicken Biryani Recipe :
| | |
| --- | --- |
| Prep Time: 35 mins | Cook Time: 55 mins |
| Total Time: 1 hour 30 mins | Serving: 6 |
How to make Boneless Chicken Biryani?
Here's the recipe to make delicious Chicken Biryani Boneless at home. (Chicken Biryani Recipe)
Ingredients for Chicken Masala :
Boneless chicken breasts or thighs, 500 g, chopped into chunks. 
500 g onions, thinly chopped and cooked until golden brown. 
4 tbsp tomato puree or paste. 
1 tablespoon of garlic paste. 
1 teaspoon red chili flakes or powder (optional). 
1-2 green chilies, slit. 
250 mL thick plain yoghurt (whipped until smooth). 
1 tsp. food coloring (orange) (optional). 
Saffron, 2 pinches. 
2 tbsp olive oil (for marinating). 
4 tbsp olive oil (for cooking). 
2 pods of cardamom. 
2 cinnamon sticks, tiny. 
2 garlic cloves. 
4 medium potatoes, peeled, quartered, and cooked until readily pierced with a knife. 
season with salt to taste. 
1 teaspoon of sugar. 1 tablespoon garam masala.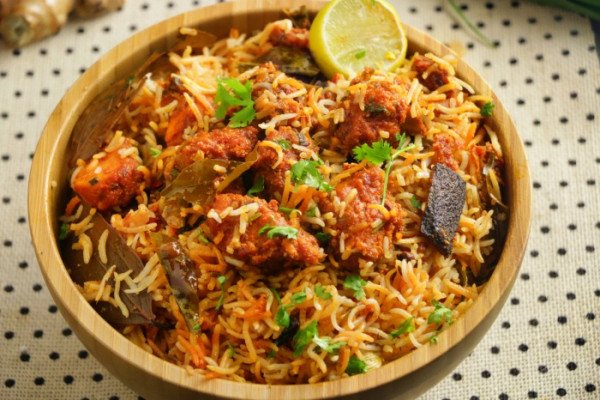 Ingredients for Rice :
3 cups basmati rice, long grain. 
2 pods of cardamom. 
2 cinnamon sticks, tiny. 
2 garlic cloves. 
2 tablespoons salt. 
3 tbsp. of oil. 
food coloring (yellow or orange). 
1 pinch saffron threads, crushed and steeped in 2 tablespoons boiling water (optional). 
Pakistan Traditional Cuisine :
Instructions :
To begin, marinate the chicken in the ginger, garlic, whole spices, half of the yoghurt, half of the fried onions, 2 tablespoons tomato paste, 2 tablespoons oil, sprinkle of orange food coloring, salt, 1 split green chili, chilli flakes, and a pinch of saffron. Mix well and marinate for at least an hour, or overnight for optimal results. 
Add the remaining 4 tbsp. of oil and the whole spices to the pan (cardamom, cinnamon stick and cloves).
Allow them to warm up to infuse their flavor into the oil, then take them from the pan and set aside until you're ready to cook the rice.
Then add the remaining fried onions, tomato paste, saffron, green chili, and yoghurt (save a few for later), as well as the saffron, green chili, and yoghurt. Cook, stirring periodically, for about 3 minutes, or until slightly thickened.
After that, add the marinated chicken with all of its marinade and simmer for 10 minutes on medium heat, then reduce to low and cook for another 10 minutes. 
During cooking, keep the pan covered and stir the mixture every few minutes. Season with salt and pepper to taste. 1 teaspoon of sugar (it helps cut down the acidity from the tomatoes). When the chicken is tender, add the fried potato cubes and simmer for 5 minutes on low heat, stirring occasionally, until the potatoes have taken on a lovely color.
The masala should be thick and rich, but if it's too dry, a small splash of warm water can be added and stirred in. Set aside a pinch of garam masala. 
After that, you can start preparing the rice. 
After washing and rinsing the rice, soak it for around 30 minutes. Toss the cardamom pods, cinnamon sticks, cloves, salt, and 1 tablespoon oil into a large pot of boiling water. Add the pre-soaked rice to the boiling water and cook until it is about three-quarters done (al dente). All extra water should be drained. 
Return the rice to the empty pan, along with a handful of fried onions. Then spray the rice with roughly 2 tbsp. oil and the saffron water.
Cover the saucepan securely and add the food coloring on one side. Mix it up a little with a spoon to distribute the color evenly. Steam for 15 minutes on low heat or bake for about the same amount of time at 180°C.
Boneless Chicken Biryani is ready to serve :
Follow Food of Pakistan for the Best Blogs and Recipes related to Traditional and famous foods of Pakistan.