Achari Chicken Recipe - Food of Pakistan
Oct 26, 2021
Recipe Details:
WHAT IS ACHARI CHICKEN?
Pickling spices are used to make Achari Chicken, which literally means "pickled" chicken. For a warm, rich, pickle-flavored curry with smokey aromas, this Pakistani curry combines an extremely fragrant blend of spices such as fennel seeds, nigella seeds, and fenugreek seeds. 
Achari Chicken is a chicken curry cooked with achaar, or South Asian pickle, components. While the chicken isn't actually pickled, it does have a spicy, sour 'pickled' flavor. ( Chicken Tikka Masala Recipe )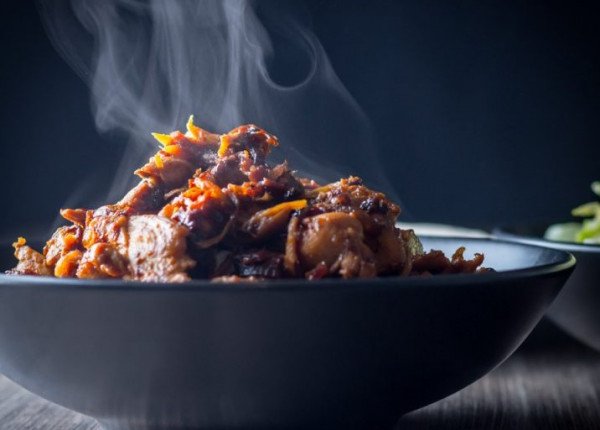 Achari Chicken Recipe Pakistani :
| | |
| --- | --- |
| Prep Time: 15 mins | Cook Time: 35 mins |
| Total Time: 50 mins | Serving: 5 |
How to make Achari Chicken?
Chicken Achari restaurant-style recipe is here. This recipe for Achari Chicken, a Pakistani and Indian chicken curry cooked with pickling spices, is simple, fuss-free, and tasty.
INGREDIENTS :
Neutral oil, 0.28 cup (65.83 ml). 
Methi dana, 1.67 teaspoon fenugreek seeds. 
saunf 1.67 tsp fennel seeds. 
nigella seeds, kalonji, 0.83 tsp. 
zeera, 0.83 teaspoon cumin seeds. 
0.83 finely chopped medium to large (208.33-225 g) onion. 
5-6.67 (0.833 tbsp heaping) smashed garlic cloves. 
Crushed ginger, 0.83 inch (0.83 tbsp). 
1.67 pound bone-in, skinless chicken parts, chopped up. 
1.67 teaspoon kosher salt (distributed). 
2.5-3.33 small tomatoes (225-241.67 g), roughly chopped. 
Green chili peppers, 0.83-1.67 oz. 
0.83 teaspoon powdered coriander. 
0.83 teaspoon red chili powder (or more to taste). 
tsp turmeric powder (0.63 tsp). 
Plain whole milk yogurt, 0.21 cup (50.83 g). 
1.67-3.33 green chili peppers, whole.
Garnish :
1.67 tsp lemon juice, freshly squeezed, or to taste. 
0.83-1.67 tbsp chopped cilantro. 
Optional garnish: 0.42 tbsp julienned ginger.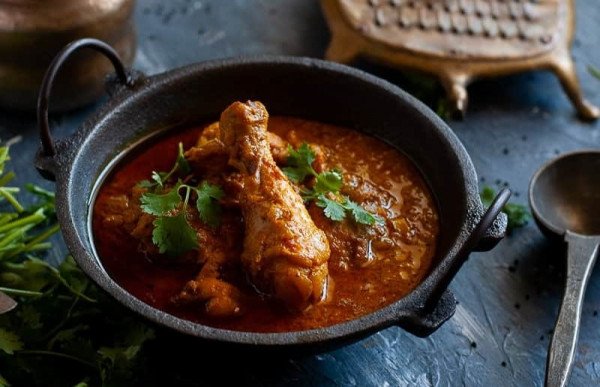 INSTRUCTIONS :
Over medium-high heat, heat a big, heavy-bottomed pan. Heat the oil and add the fenugreek, fennel, nigella, and cumin seeds after it is hot. The seeds will start to sizzle as they cook. Add the onions and sauté for 10-12 minutes, or until they are gently brown. Deglaze the pan with 2 tbsp water if necessary. When the water has evaporated, add the garlic and ginger and cook for a minute, or until fragrant. 
Add the chicken and 1/2 teaspoon salt and cook for 5 minutes, or until the color changes. Toss in the tomatoes, green chili pepper, coriander powder, red chili powder, turmeric powder, and the remaining salt (1 1/2 teaspoon). Continue to sauté for another 2 to 3 minutes, or until the tomatoes have softened. Bring to a boil with 1/3 cup water (enough to cover about 1/3 of the chicken). 
Reduce the heat to a low-medium heat, cover, and cook for 20-25 minutes (depending on the size of the chicken), stirring once in between. 
Remove the top and increase the heat to high. To reduce extra liquid, sauté for 4-5 minutes. As the oil separates from the chicken, it will take on a glossy appearance, but there will still be plenty of curry. 
Reduce the heat to low-medium and stir in the yogurt that has been whisked. Add the green chili peppers whole. Sauté for 2-3 minutes, or until the curry is fully combined and the oil has separated from the curry. If necessary, taste and adjust the salt. (I normally need an additional 1/8 teaspoon.) 
Turn the heat off. Stir in the lemon juice until everything is well combined.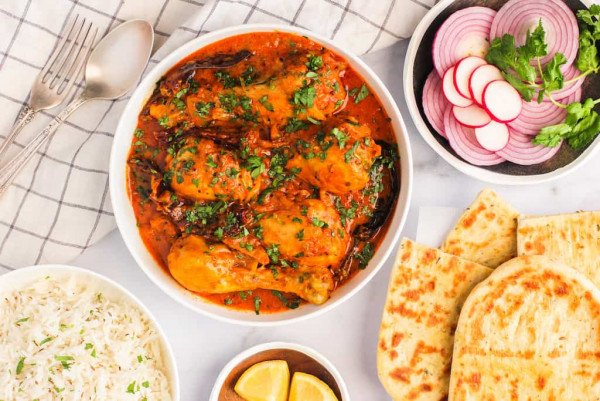 Serving :
Serve with cilantro and julienned ginger as garnish. With naan, roti, paratha, or other bread, serve hot.
Note :
To keep yogurt from curdling, keep it at room temperature and mix often while adding it.
Nutrition :
329 calories, 5 grams of carbohydrates, 25 grams of protein, 23 grams of fat, 5 grams of saturated fat, 3 grams of polyunsaturated fat, 13 grams of monounsaturated fat, 1 gram of trans fat, 80 milligrams of cholesterol, 852 milligrams of sodium, 544 milligrams of potassium, 1 gram of fiber, 1 gram of sugar, 385IU of vitamin A, 6 milligrams of vitamin C, 60 milligrams of calcium
Follow Food of Pakistan for the Best Blogs and Recipes related to Traditional and famous foods of Pakistan.