Traditional Multani Sohan Halwa - Food of Pakistan
Jun 03, 2021
Sohan Halwa :
Sohan halwa is a rich, sweet dish or halwa that is a traditional South Asian treat. Since the Mughal era, Gheewala halwa has been known for its sohan halwa. In the cities of Multan (Punjab), Dera Ismail Khan (Khyber Pakhtunkhwa), and Old Delhi, there are hundreds of shops that make sohan halwa, One of the famous shops in MULTAN is Hafiz sohan halwa, Rewari multani sohan halwa.
It's prepared by heating a mixture of water, sugar, milk, and cornflour until it solidifies. Saffron is a spice that is used to flavor food. To keep it from sticking to the pan, ghee is used. Cardamom seeds, almonds, and pistachios are added. It is firm, comparable to its Middle Eastern equivalents, unlike most other halwa meals on the Indian subcontinent.


Sohan halwa is thought to have originated in Persia. Sohan is a Persian term, and in Iranian cuisine, there is a brittle dessert called sohan-e-qom that is nearly comparable (Qom is a city in Iran) Persian sohan is an ancient dessert that was initially created to be offered during social occasions.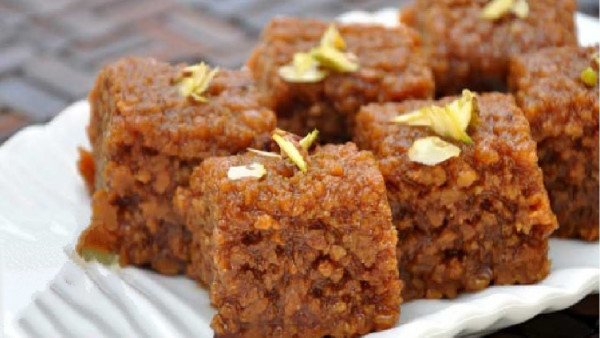 Sohan Halwa Recipe :
Prep Time:

10 mins 

Cook Time:

40 mins

Total Cook Time:

50 mins

 Servings: 5
Homemade Sohan Halwa :

Sugar 1/2 kg.
Cornflour or maida1/2 kg.
Almonds 1/4 kg.
Pistachio 100 gm.
Green cardamom 50 gm.
Ghee 1/2 kg.
Milk 1 cup.
Water 2 liters.
Saffron 1 tsp.




How to Make Sohan Halwa?

Just follow these simple steps to make Sohan Halwa at home.

Instruction :

1-liter water, sugar, and 5 minutes of boiling.
Boil for 5 minutes with 1 cup milk.
Using a muslin bag or a thin cloth, strain it.
Combine the remaining water and sugar syrup in a mixing bowl.
1 teaspoon saffron, dissolved in warm water, to be added. 
In a small amount of water, dissolve the cornflour. Cook over low heat with the cornflour mixture. 
1 tbsp ghee, when cornflour has thickened. 
To keep the ghee (1/2 kg) from sticking to the pan, keep adding it slowly during the cooking process. 
It should be thoroughly mixed. When the ghee separates from the mixture, it's done. 
Mix in the almonds, pistachios, and green cardamom. 
Using oil, grease a pan or tray. Spread halwa on top and flatten with a wooden spoon.


Serving :

Arrange almonds, pistachios, and cardamoms on top.
When it's cold enough to handle, cut it into pieces and serve.

Follow Food of Pakistan for the Best Blogs and Recipes related to Traditional and famous foods of Pakistan.