Coffee Flavored Cake - Food of Pakistan
Oct 20, 2021
A creamy whipped mocha icing over a delicious and savory Coffee Flavored Cake. It's the ideal way to sip your coffee and eat it at the same time!
It's really moist and tastes exactly like a cup of coffee in cake form. You'll want to ask the icing out on a date since it's so delicious.
Alternatively, eat it by the spoonful. Whichever one you're prepared to confess you crave. (Chocolate Cake Recipe).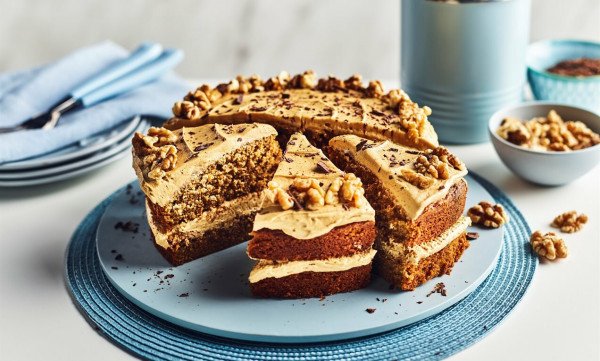 It bakes up nicely and is oh-so-delicious. The Coffee Flavored Cake Recipe is made even more decadent by slathering whipped mocha ganache between the layers. The whipped mocha icing is the ideal complement to the cake.
How do you make coffee flavored cake?
Before Making a coffee-flavored cake you must want to know how best it is.
THE BEST COFFEE-FLAVORED CAKE :
This is essentially a butter cake with a coffee flavor. It has a soft and strong feel, and it's not only great for stacking, but it's also great for carving cakes. 
This cake is great on its own, but it's much better when it's covered in icing. While I usually use vanilla buttercream to fill and cover this cake (unless my customer specifically requests a different frosting), a coffee-flavored buttercream, as well as any chocolate-flavored icings, would be a lovely addition. 
At room temperature, the cake stays soft and moist for 4 to 5 days. My two-layered coffee-flavored cake, sandwiched and frosted in coffee buttercream and topped with coffee-flavored chocolate chip polka dots, may be seen in the image on this page.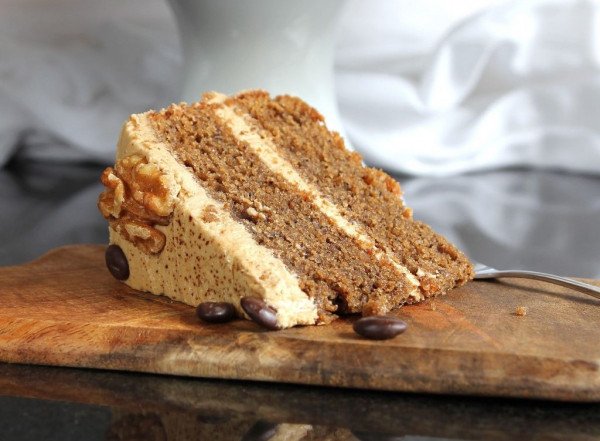 How do make a coffee flavored cake?

A rich and delicious coffee flavored cake that tastes exactly like your favorite cup of coffee. For a truly indulgent treat, top with mocha frosting. Follow the Coffee Flavored Cake Recipe to make delecious cake at home.
PREP TIME:

50 

mins

COOK TIME: 30

mins

TOTAL TIME: 1

hr

20 

mins

SERVINGS: 

1

layer cake
Coffee Flavored Cake Recipe :
INGREDIENTS :
Coffee Cake.
360g all-purpose flour (3 cups). 
1 teaspoon powdered baking soda. 
2 tsp. bicarbonate of soda. 
1 teaspoon kosher salt. 
1/2 tblsp. cinnamon. 
1/8 teaspoon nutmeg, ground. 
1/2 cup instant espresso powder (56 g). 
396g sugar in 2 cups. 
1/2 cup vegetable oil (98 g). 
1 cup (227g) room temperature milk. 
1 cup (227g) strong brewed coffee, room temperature (see note below). 
2 room temperature eggs. 
2 teaspoons of vanilla extract.
Frosting.
226g unsalted butter, softened 1 cup. 
4 cups powdered sugar (454g) and a pinch of salt. 
1/4 cup cocoa powder (21 g). 
1 teaspoon extract de vanilla. 
2 tbsp. instant espresso powder (14 g). 
3 – 4 tblsp. 56 g thick cream, warmed slightly.
INSTRUCTIONS :

Preheat oven to 350 degrees Fahrenheit. Two 8" round cake pans should be greased and floured. 
Combine the flour, baking powder, baking soda, salt, cinnamon, nutmeg, espresso powder, and sugar in a large mixing basin. Stir everything together thoroughly. 
Combine the oil, milk, coffee, eggs, and vanilla in a separate bowl. Whisk everything together until it's perfectly smooth. 
In three batches, slowly add the flour mixture to the wet ingredients, mixing gently between each addition. 
Bake for 25 to 30 minutes, or until a toothpick inserted in the center comes out clean, or until the batter is uniformly distributed across the baking pans. 
Allow for a 20-minute cooling period in the pans. Gently slip a knife between the cake and the pan, then remove the cake and set it on a wire rack to cool entirely. Refrigerate for at least one hour, ideally overnight, after covering. 
To make the frosting, mix together the soft butter and confectioners' sugar until smooth. One cup at a time, add the powdered sugar, mixing well after each addition. Combine the salt, cocoa powder, and vanilla extract in a mixing bowl. Stir everything together thoroughly. 
Combine the espresso and heavy cream in a mixing bowl. Drizzle the heavy cream mixture into the frosting in a slow, steady stream until it reaches a creamy consistency. For one minute, whisk on high speed. 
To form four even layers, cut the two cakes in half. Spread whipped frosting on each cake layer and stack the cakes on top of one another. Smooth the frosting around the edges of the cake using an offset spatula.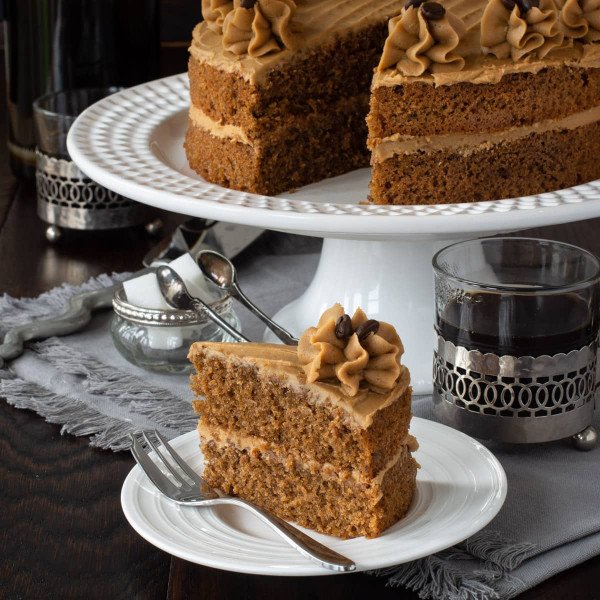 NOTES :
We recommend Chameleon cold brew coffee concentrate, but any dark roast would suffice!
NUTRITION :
calorie count: 437 kcal 66g carbohydrate 4 g protein 18g fat 7g Saturated Fat 10 g polyunsaturated fat 52 milligrams of cholesterol 350 mg sodium 1 gram of fiber 45 g sugar.
Follow Food of Pakistan for the Best Blogs and Recipes related to Traditional and famous foods of Pakistan.